Applications for Year 7
We are looking forward to welcoming applications from prospective Year 7s. While this year is a little different, due to Covid restrictions, we are sharing as much information with you as we can.
If, after viewing our video and prospectus you have any further queries please contact us on enquiries@ketteringscienceacademy.org
Please be advised that the Brooke Weston Trust is taking part in Northamptonshire County Council consultation on school admission arrangements for 2022 intake. The proposed changes for Brooke Weston Trust schools can be viewed on the Trust website here. You can also view and comment on these proposed changes on the Northamptonshire County Council website here.
Virtual Open Evening Video: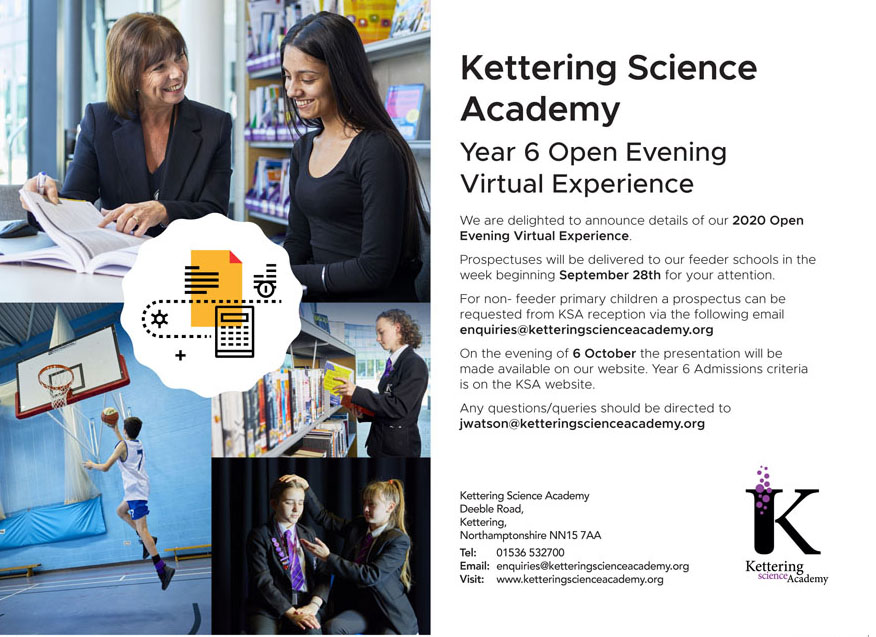 Year 6 Open Evening Virtual Experience
We are delighted to announce details of our 2020 Open Evening Virtual Experience.
Prospectuses have been delivered to our feeder schools in the week beginning September 29th for your attention. You can also request a prospectus by emailing enquiries@ketteringscienceacademy.org or telephoning 01536 532700.
Prospectus 2020/21
Year 6 Admissions Criteria is available to view here.
Any questions/queries should be directed to enquiries@ketteringscienceacademy.org