Anti-Bullying Ambassadors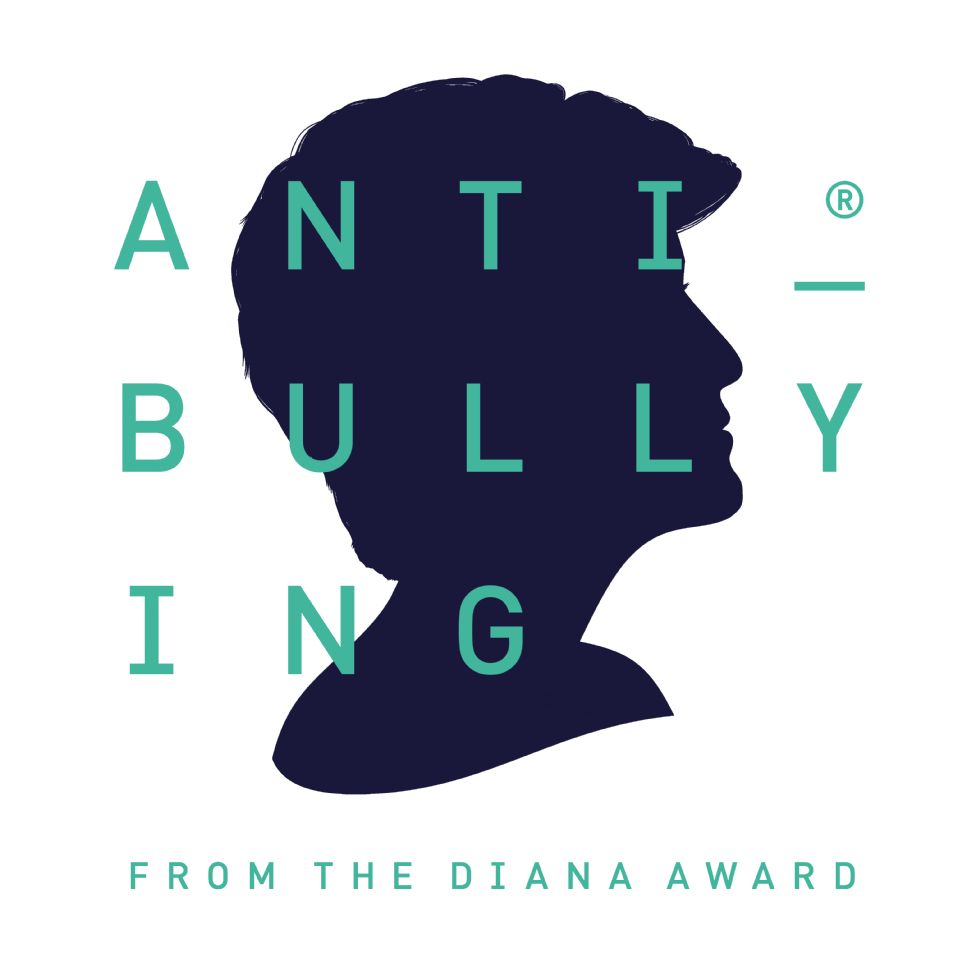 Outline of the Anti-Bullying team
At KSA our Anti-Bullying Ambassadors play an important role through insisting our students display positive attitudes and behaviours towards others. The aim of our Anti-Bullying Ambassadors is to create an inclusive culture at KSA for all our students to be a part of.
Our 20+ Ambassadors, who range from Year 7 to Year 12, will all be trained as part of "The Diana Award - Anti-Bullying Ambassador" programme this academic year 2021-22. Last year's year 11 and sixth formers have already completed the Diana Award training and will now be developing their knowledge and skills further through the Diana Bronze, Silver and Gold awards.
The students since the start of the last academic year have successfully launched themselves as Anti-Bullying Ambassadors within the school: they have delivered multiple assemblies; organised and carried out themed months across the year focussing on a variety of topics; and throughout all of this they have promoted the theme of inclusivity and "being yourself". All students have been provided with an Anti-Bullying badge and their names have been displayed on the screens around the school and on the KSA website. Going forward all ambassadors will have an Anti-Bullying tie which will be ordered at the beginning of September.
During our weekly meetings on Friday's period 5, students discuss the effectiveness of the actions we are implementing as a school and how going forward we can help reduce bullying, encourage positive attitudes and behaviour, and create this inclusive culture. The students have also put a range of services in place to help anyone who is being bullied including Anti-Bullying boxes in each wing due to COVID and an email address with which to report bullying.
How we can help?
If you or someone you know if being bullied there are a range of ways we can help:
You can email us HelpMe@ketteringscienceacademy.org
You can talk to us or any member of staff
You can use our Anti-Bullying Ambassador post-box which is located in the library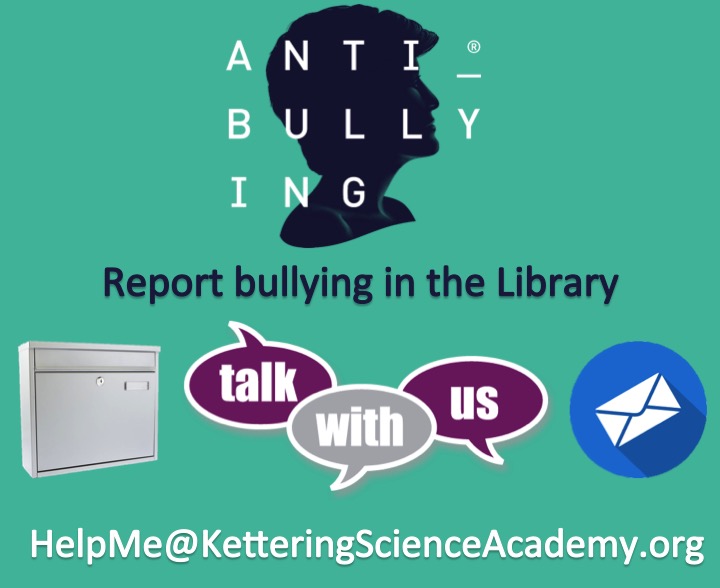 Anti-Bullying Ambassadors (Who we are?)
Year 8
Year 9
Daisy Hollingdale
Hi, my name is Daisy Hollingdale, and I'm an anti-bullying ambassador for Year 9. I joined the anti-bullying team as l want to help anyone who is being bullied. I think my role will give other students the confidence to speak out about their experiences with bullying. I want to make sure that anyone who is being bullied gets the support they need to feel safe and comfortable in school.
Tara Maye
I joined the anti-bullying ambassadors because I believe no one should have to suffer from bullying. I know that many people are afraid to speak up about it, and it's important that they do, so they can receive help. As an anti-bullying ambassador, I pledge to assist students at KSA who are caught up in bullying, and to ensure that people who are bullied, witnessing bullying, or even find themselves bullying someone, are able to tell us, and for the situation to be sorted.
Kezia Mbangweta
Hi my name is Kezia and I have chosen to be an ambassador to overcome bullying and to stop bullying in the school. I also want people to feel happier and feel good to be here at Kettering Science Academy.
Year 10
Shikaila Coles
I am Shikaila Coles, I am kind, caring, considerate and I put other peoples feelings before mine, I enjoy sports, I like spending time with my family. I joined anti bullying because I felt like I could make a difference, I have empathy, and I am a person people can rely on. My aim is to make school more enjoyable for those who find school unbearable due to the bullying they endure.
Catherine Abrahams
My name is Catherine Abrahams. I have been an anti-bullying ambassador for two years now, and I'm so happy to be trying to make a difference. I joined because I wanted to help people who were vulnerable and because I wanted to make sure people don't get away with things that can harm somebody else. I don't see it as at all acceptable and I would like nothing more than to ensure a person's safety at school. It can make a huge difference to have people like the ambassadors around, and so I want to do whatever I can.
Simona Kaur
I wanted to become an antibulling ambassador because I want to make sure everyone feels safe and comfortable to go to school. Some people might struggle with that, that's why I wanted to help. I will try my best to make sure that everyone feels involved and no one is left out.
Gyamfua Antow
Hello, my name is Gyamfua and I hope you're doing well! I joined the Anti-Bullying team to be able to be there for people, and be a friend that you're comfortable to talk to about anything without getting judged. I hope to gain more understanding and views on things from the Anti-Bullying training , along with learn more ways I can help out!
Amie Toomey
Hi, my name is Amie and I became an Anti-Bullying ambassador to help people with their problems and help people who are being bullied. I like to help people because it can have an impact on the rest of their lives. I hope that throughout my time at KSA I can help as many students as possible.
Seleah Aitchinson
Year 11
Matilda Norbury
I joined the anti-bullying team when I was in year seven; I joined because I'd heard rumours that bullying was bad at school, and I wanted to do anything I could to change that. I'm fifteen years old, and I love to read. I also really enjoy listening to music and performing in drama. I am more than willing to listen to any problems and I try to do my very best to solve them. I feel that I am approachable and if anyone needs to talk to me, I will happily take time out of my day to listen.
Colao Belcher
Hi! My name is Colao, I'm 15, and I'm part of the year 11 Anti-Bullying Ambassadors. I wanted to be an Anti-Bullying Ambassador because I want to be able to support those who feel as though they are being singled-out. I love acting and listening to music! I aspire to be an actress/voice actress in the future. I also find joy in spreading happiness, so I'd be more than open to listen to any problems you might have, and I'll try my best to help or at least make you feel better.
Clark Alderman
Hi, my name is Clark Alderman and I joined the Anti-Bullying ambassadors at KSA to reduce risks of bullies getting what they want and supporting students who are being bullied.
Troy Winter
The main reason I joined the Anti-Bullying team is that I have been bullied in the past and I want it to stop all round so that everyone can feel welcome and included. I also want to be able to help those who can't speak up about being bullied and be that person to encourage them to open up and that it is okay to speak about things.
Peggy Wilson-Benn
Hi my name is Peggy and I joined the anti-bullying team because I want to help people. I can relate to students who are being bullied, and I will help/guide them through their KSA journey.
Sixth Form
Year 12
Bartlomiej Piatkowski
Hi my name is Bartek, and I am one of the anti-bullying ambassadors. I decided to join in hope to make a change within the school and help people feel safe and comfortable in our school.
Nellie McMinn
My name is Nellie-Anne, and I am a Year 12 Anti-Bullying Ambassador. I was very intrigued when I heard about the Anti-Bullying campaign, I applied at once as I love being able to help others. By doing this, it is helping students feel comfortable around school and ensuring they have the confidence to do what they like. Sometimes people are too scared to let people know when they are having issues with their peers in school but by having other people the same age to talk to it seems to help, and we can make a difference. The Anti-Bullying team meet every Friday to discuss ways to make sure that our message is heard in school and to look at ways we can improve what we are doing. It also provides me with first-hand experience with working with young people. This is important to me as I'd like to enter that field of work when I leave Kettering Science Academy. I really enjoy helping people out and be there for others when they need it the most because it makes them feel good, and lastly myself.
Scarlet Birkitt
Year 13
Jennifer Aksu
I am Jennifer Aksu, a Sixth-Former taking art, history and German A-Levels. My hobbies include digital art, video games, and cycling. I joined the Anti-Bullying team because I felt that, as a previous victim, I could help make life a little easier for those struggling- even a small impact means that our job is making positive changes. Through the Anti-Bullying training, I hope to better understand how to create a safe and accepting environment for students throughout the school. Skills like this can be carried on to the workplace and group projects in future careers.
Kye Brunt-Meadows
I am currently studying chemistry, physics and maths. I enjoy all the subjects and love to question how things work, especially in physics as a lot of stuff is theoretical. Outside my academic life, I love to act and swim. I perform in shows when I can and love the thrill of being on a stage. For swimming, I do lifeguard lessons, and soon I should qualify as a lifeguard. I also like to game a little and use it to relax after some stressful days being a sixth form student. I have been bullied in the past, so I could use my knowledge on bullying to empathise with the victim on a deeper level. I also have a bright and upbeat character, so I do believe that people would feel comfortable coming to me for advice. I've had experience working with younger children before, as I was a young leader at a Cub Scout group for a couple of years. During this time, I gained valuable experience in helping these young people with any issues they may have had, and I also completed various training exercises on safeguarding and other skills that can be used in this Anti-Bullying role. With the Anti-Bullying training, I wish to gain the knowledge to help the victims a lot more with how to deal with a bully, as sometimes it can feel like you can't do anything against them. I'd also like to gain some more confidence in being able to talk to the victims and bullies alike, and talk it through with them in a civil manner.
Emilia Magosz
My name is Emilia. I enjoy knitting and reading with a hot cup of tea. I always think ahead and plan accordingly. I have experience dealing with mental health, and I can easily relate to people and emphasise with them. I joined the anti bullying team because the people seemed like a kind and accepting team. I also wanted to do more for others, as I felt I've been wasting a lot of my time recently. I wanted to spend it more productively by helping others. I'm hoping I can gain some lifelong skills that will help me better communicate with people and be more patient and understanding.
Edvinas Diskivicius
Hi everyone, I'm Ed, 17 years old. I'm from Lithuania and moved to UK over 5 years ago with my family. I have many hobbies like exercising and doing magic tricks with cards but my main one is playing video games. Bullying is an issue everyone experiences in their life in one way or another and from personal experiences, I know how tough it can be to go through it alone without anyone's help. I joined the anti-bullying team because I want to help people in any way I can. It's an issue that has impacted me and the people I know which taught me ways of dealing with it myself and I don't want anyone to go through it alone. Anti-bullying ambassadors is an opportunity for me to grow and be able to help others when times get rough even outside of school. The training provided will help me do just that in school and later on in life.
Kira Mckenna-King
Alfred Koroye
The calendar events for 2021-22 will be updated as soon as information is available.
The Anti-Bullying Charter for the year is on the attachment below.