Jeff Kinney Meets Students Virtually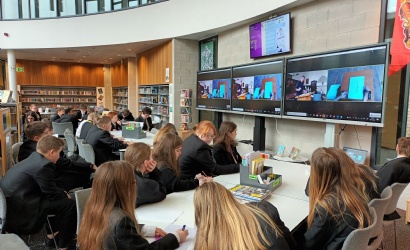 An exciting morning for 30 year 7 students
30 of our Year 7s had a very exciting morning when they got the opportunity to, virtually, meet and hear from Jeff Kinney – one of the most popular authors and illustrators in our library.
During the event, the lucky students were able to read a sneak preview of his new book and they got a masterclass in how to draw Greg and some of the other characters in the series. Students took part in a virtual Q&A asking Mr Kinney all about his inspiration for his characters and the process of creating a new book. They also took part in a "superfan" quiz pitching their knowledge against students from another school.
The students were nominated by their English teachers and Mrs Frohawk was delighted with how the morning had gone. The students were fans of the event too. Emilia said that she, "liked how funny the author is" and enjoyed being shown how he drew each character. Tegan said that she liked seeing what the author saw on his tour, "it was as if we were there when he was," she explained.
"Mr Kinney talked about two different kinds of books," said Jessica. "There are books that are a window to a different world and books which are a mirror to ourselves". We think this was Mr Kinney admitting that he was quite like Greg as child!
Ms Evans is very grateful to Mrs Frohawk, Northamptonshire LRE and the organisation Authors Aloud for organising the experience. It was an opportunity for some of our students to hear first hand from a very popular author and we think his new book might be on several students' Christmas list now!