Brooke Weston Trust Sports Awards 2017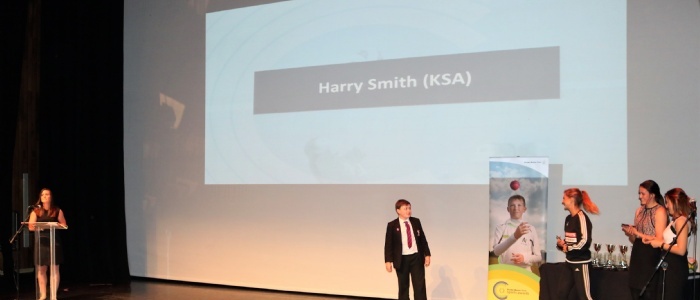 Kettering Science Academy students won four awards at this year's Brooke Weston Trust Sports Awards, organised and hosted by BWT Director of Sport Kirstie Smith.
Kettering Science Academy students won four awards at this year's Brooke Weston Trust Sports Awards, organised and hosted by BWT Director of Sport Kirstie Smith.
Hundreds of students, parents and teachers from across the ten BWT schools attended the ceremony, held at the Corby Cube, in which students from Key Stage 2 – 4 were recognised for their achievements. Students Harry Smith, Elisabeth Szekelyova and Austin Reed all won awards.

Year 8 student Harry Smith won the Key Stage 3 BWT Participation and Achievement Award for participating, progressing and showing outstanding effort in all his PE lessons on a revised curriculum, despite only having two chambers of the heart.

Year 10 student Elisabeth Szekelyova won the Key Stage 4 BWT Participation and Achievement Award for attending a full range of extra-curricular clubs and going above and beyond to provide resources for her GCSE PE group to ensure others understand difficult content.
Year 10 student Austin Reed won the Sportsman of the Year Award for being nominated for the Kettering Young Sportsman of 2016 and swimming for county in many competitions.
KSA's Year 8 students also received an award for winning the BWT Sports Festival whereby students play a variety of sports with the focus on participation, enabling students to meet and compete with their peers from across the Trust in fun meaningful activities, in sports they may not have experienced before.
Throughout the evening special guests, Sky Sport Living for Sport' mentors, ex British tennis player Jade Windley and Paralympian Alistair Patrick-Hesleton shared their inspirational stories whilst one of the world's best freestyle athletes, James Knight, treated guests to a special performance and even taught Executive Principal, John Henrys, a few tricks.
The special guests handed out over 20 awards to students. All nominees were invited onto the stage whilst the audience were told about their sporting achievements. Each of the nominees received a certificate for their hard work and success.
Kirstie Smith said 'This is a very special evening to celebrate the sporting achievements of our pupils from across our trust family of schools. I am immensely proud of this award evening, which is now in its second year and features even more award categories to reflect and recognise the sporting achievements and ambitions of our aspiring and elite athletes.
'I firmly believe that outstanding Physical Education has a direct impact on whole school improvement through raising aspiration, and ultimately achievement, for our young people. Unlike any other subject in the curriculum, Physical Education has a unique role in promoting core life values; this is essential to develop our young people's physical literacy, educating them on leading a healthy, active, lifestyle.'
During the evening Thomas Clarkson Academy's dance students performed two routines and the BWT Sports Ambassadors assisted with duties, helping students and parents to find their seats and provided support to the awards organisation team. Thank you to all those involved who made the evening a great success.