PCSO Alex Franklin - a tribute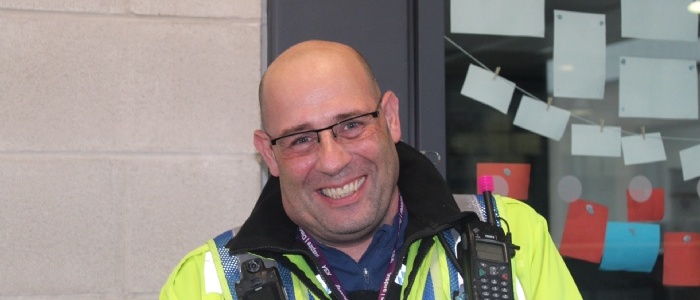 This is a story that was posted about PCSO Alex Franklin when he began working with students and staff at Kettering Science Academy. Sadly Alex passed away in summer 2019, however we wanted to keep the story on our website as Alex was such a valuable friend, colleague and mentor to so many at Kettering Science Academy and made a huge contribution to our young people. RIP Alex, your smile and enthusiasm will never be forgotten.
Alex Franklin is a PCSO based in the Corby, Kettering area that has recently begun to work closely with the staff and students here at KSA.
After working as a PCSO for 11 years and a school officer for 8 of those years, Alex has experience working with young people in a school environment. He said 'I decided to become a school officer largely because I felt the young people deserved to get through school with little to no issues. My aim is to break down barriers and help establish more pathways for those who have little direction.'
He will be leading a number of assemblies informing the students about different initiatives in place, such as raising awareness of hate crime, organised crime and road safety. Year 8 students will specifically be involved in a programme focusing on road safety, which will aim to both educate and engage them in how they can be safer on roads.
Another initiative he is bringing to the Academy is the anonymous online crime reporting system Fearless.org. Through this, he aims to enlighten students about other ways to report crimes they may witness if they do not want to go to the police, give a statement, or appear in court.
You can find out more information at https://www.fearless.org/en