KSA launch NCSC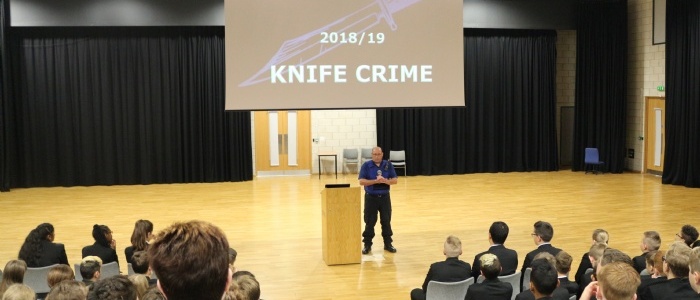 PSCO Alex Franklin held an assembly for our Year 8 students to launch this year's Northamptonshire County Schools Challenge.
PCSO Alex Franklin held an assembly for our Year 8 students to launch this year's Northamptonshire County Schools Challenge.
The competition tasks students from secondary schools across Northamptonshire to use a business approach to develop creative ways to tackle a social problem by creating a product or service. This year the project theme has been announced as 'Knife Crime'.
During the assembly PCSO Alex Franklin spoke to the students about this years theme, outlining the increased number of knife crimes in the county. He then went on to explain the implications and myths of carrying a knife before speaking about this year's competition and the skills the students could gain from taking part.
Students will now have a designated day later on in the year to design their product or service and will present their ideas to their peers and teachers. One group will then go through to represent the Academy at the semi-finals, held at the Northamptonshire Police Headquarters. Here they will pitch their ideas in front of a group of judges and will get to visit the dogs unit and fire service. If the team make it through to the finals, they will showcase their idea and business plan in a 'Dragons Den' format to a panel of business, public sector and community leaders for a chance to win £2,000 to develop their idea into a reality.
PCSO Alex. Franklin said: 'The competition is brilliant. The students gain a in-depth understanding of the issues affecting the local community and love getting involved by helping to raise awareness of these problems. As well as giving back to the community, the students also develop key transferable skills through such as creativity, presentation, teamwork and research, which are great to put on their CVs and UCAS applications.
'We've had some brilliant ideas from KSA students in the past and made it through to the semi-finals last years so I am really looking forward to seeing some of the products and serves the students create this year.'
The competition organisers said: 'County Schools Challenge aims to encourage students to think about the causes and consequences of people's actions, and identify solution or prevention strategies. The scheme recognises the valuable role that schools play in promoting messages that have a society-wide benefit and enables agencies to listen to and learn from young people.'
Northamptonshire Police runs the event in partnership with Northamptonshire Fire and Rescue and Crimestoppers.