Students inspired by Medical Mavericks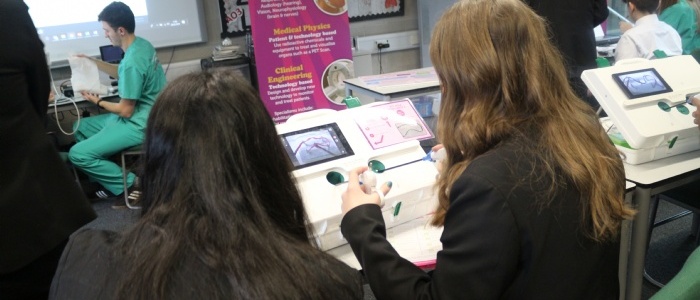 Today, a group of our Year 11 and 12 students of our students took part in activities that allowed them to explore healthcare science based careers.
The students, who were keen to find out more about working for the NHS or in the medical profession, were able to carry out similar jobs to those healthcare professionals do on a daily basis. Some of the activities the students took part in included recording and printing an ECG of their heart, measuring each other's blood pressure and conducting respiratory tests.
The session allowed students to gain an insight into what it would be like to work in the industry. They learnt about NHS careers as well as the qualifications needed for specific jobs and the routes they could take into them. Students also had the opportunity to speak with recent graduates from science, health and medical courses.
Senior Assistant Principal Jane Watson said 'The students have all full engaged with the workshop and the feedback I have received has been very positive. The sessions have provided a fantastic opportunity for recent graduates in the field to come in and talk first hand to our Year 11 and 12s. They have all enjoyed the sessions and have gained an in-depth insight into the industry.'
Click here to view more photos from the session.