Harry Potter Book Night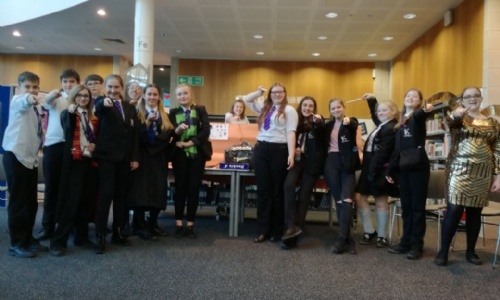 A group students from Years 7 to Sixth Form recently received Hogwarts Express tickets via Owl Post inviting them to KSA's Harry Potter Book Night.
The evening takes place once a year and themed parties are held across the world to celebrate the franchise.
On arrival, the young witches and wizards had to put on the sorting hat to determine which of the various houses (out of Ravenclaw, Slytherin, Hufflepuff and Gryffindor) they would be in for the evening. Once houses were determined, students then went to Olivanders to select their wands.
The students then enjoyed an evening full of fun and games including Musical Magic Chairs, Pass the Owl Post Parcel – Dobby Socks and Alastor Mad Eye Moody Eye and Spoon Race.
Students also had the chance to taste Butterbeer and various confectionery from KSA's own version of Honeydukes.
At the end of the evening Kiara S was awarded best outfit for her Golden Snitch costume and won a Harry Potter travel mug.
Head Librarian Mrs Economou said: 'Each year we get really excited about Harry Potter Evening at KSA. The evening provides a wonderful opportunity to get Harry Potter fans from the different year groups across the school together to celebrate and share their enthusiasm for the franchise. The students love the event and get fully involved, making their own companions and outfits.
'We are looking forward to next year's already.'