KSA host IET Faraday Challenge Day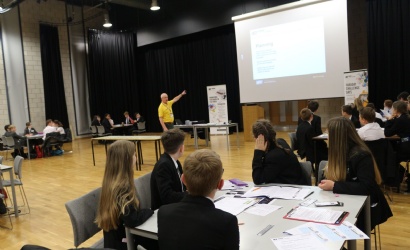 On Friday, Kettering Science Academy hosted the Faraday Challenge day, an engineering competition led by the Institute of Engineering and Technology.
Year 8 students from local schools, including Corby Technical School, Kettering Buccleuch Academy and Montsaye Academy joined KSA students for the challenge, which allows students to become engineers for the day. They researched, designed and built solutions to real life engineering problems whilst being up against the clock. This year's challenge was associated with the James webb Space Telescope, however the full brief will stay under wraps to avoid unfair preparation and research as the event is one of over 170 taking place across the UK this academic year.
Natalie Clerke, IET Faraday Education Manager, said: 'Students who take part in the Faraday Challenge Days experience working as an engineer through hands-on and practical engagement with real-life challenges relating to the James Webb Space Telescope.
'There is huge demand for new engineers and technicians and we're confident that this will challenge young people's perceptions of engineers and inspire the next generation by giving them an insight into the life of a real engineer, the variety a career in engineering can offer and just how exciting and creative engineering is.
'The events aim to encourage more young people to study and consider exciting and rewarding careers in science, technology, engineering and maths (STEM) by using creativity, innovation and problem-solving skills.
'Each team member in the winning group will be awarded a prize and a trophy for their school. The top five teams from across the UK will receive an all-expenses paid trip to the national final at The Royal Observatory, Edinburgh in 2019 to compete for a cash prize of up to £1,000 for their school.'
Dr Mick Dunne from IET who led the competition at KSA said: 'The two most important things the students get out of the competition are perceiving engineering differently and developing their soft skills. They are put into a big team of six and they don't always agree so it is about how they overcome those difficulties and their roles and responsibilities. These soft skills are transferable to the real world and in schools it's quite difficult to give the children genuine opportunities to develop them. It tends to be done outside of school or in an event like this. Those transferable skills such as communications, listening, negotiation, compromising are all things that really count and when you are in a big team of size you have to develop those skills. The integrity the students showed, their sensitivity, combined with honesty and criticality was wonderful.'
KSA Science Teacher Mrs Oliver said: 'It was really exciting and a privilege to have the opportunity to host this year's Faraday Challenge. The challenge provided the students with a great opportunity to put their engineering and technology knowledge and skills to the test. All the students had a brilliant day.'
The Faraday Challenge Days are part of a wider Faraday education programme, made up of a whole host of teaching resources and activities to inspire and attract the engineers of tomorrow.
Click here to view more photos from the event.