Mr Segalini takes on 24hr bike challenge for charity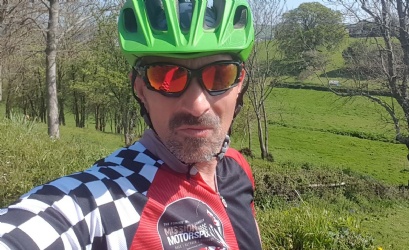 Kettering Science Academy's Associate Principal Tony Segalini is taking part in a gruelling 24 hour mountain bike ride to raise money for charity.
Mr Segalini, a keen cyclist, is riding with the Harborough Heroes veteran mountain bike racing team, which is raising funds for 'Mission Motorsport', a charity that uses motor racing to rehabilitate forces personnel.
Mountain Mayhem involves cycling 10km laps over a 24 hour period, starting at noon on Saturday 22 June. Mr Segalini and his team will ride in relays to complete as many laps as possible and taking short breaks to recover before the next round begins.
Mountain Mayhem is the longest running 24 hour mountain bike endurance event in the world, and this year the race is being held at a brand new venue, Marston Lodge in Northamptonshire. Organiser Jill Greenfield said: 'There is so much potential at Marston Lodge on new mountain bike territory, with climbs, single-track and spectacular woodland, plus all the plans we have for everyone at the event, not only for the riders, but their families and supporters too with a Friday night party, entertainment on Saturday plus loads of activities for the kids and adults alike.'
Mr Segalini, who has set himself a fundraising target of £2,000, said: 'As a former soldier veterans charities are close to my heart and so this is the perfect charity to support. We are a team of five riders and as keen cyclists we have tried hard to prepare ourselves by increasing our weekly off road mileage. As the event gets closer we are ramping up our training schedule and are really looking forward to the challenge that Mountain Mayhem represents.
'I think the stages riding through the night will be the most difficult as it will be cold and dark, however our team spirit will keep us going as we want to raise as much as possible, so any donations will be really welcome. This is a way to really challenge ourselves to the limits while raising money for injured Forces personnel. All donations will be very welcome via my Just Giving page. My wife works at the Forces rehabilitation centre at Stamford Hall near Loughborough as an occupational therapist and has a history of working with injured forces personnel through her volunteering with Mission Motorsport, so we decided this would be a good charity to support.'
To donate to Mr Segalini's JustGiving page click here.