Celebrating our students' success at BWT Sports Awards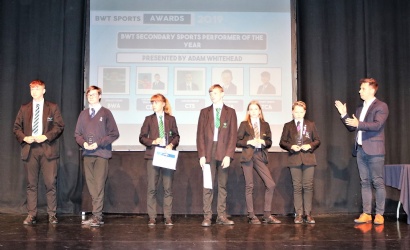 Well done to our students who were awarded the following accolades at the Trust Sports Awards 2019.
Clark Alderman was KSA's Sports Performer of the Year. He has recently signed for Northampton Saints' development squad and represents the Academy in a variety of sports.
The individual achievement award was given to Meah Cunningham. Her nomination read: 'This year she has become one of the hardest working students in PE, has shown an excellent attitude and put in effort in all areas. She has now been moved to top set where she is one of the top performers in her group.'
Chloe Parker was awarded for her Outstanding Contribution to Leadership. Trust Director of Subject Kirstie Smith said: 'Chloe has shown that she excels in most aspects of leadership; planning and delivering. She has planned detailed lesson plans that would be a welcome addition to any PE teacher's file. She has led basketball tournaments with excellent organisation and structure.'
Sporting Volunteer of the Year award for KSA was given to Beth Allan who, as well as coaching lots of girls' football at KSA, also coaches in the local area as well.
Well done to our Year 9 Athletics team which was nominated for BWT Secondary Team of the Year.
To read the full list of prizewinners click here.
To see a gallery of photographs from the event click here.