KSA students attend Teen Tech event at Northampton College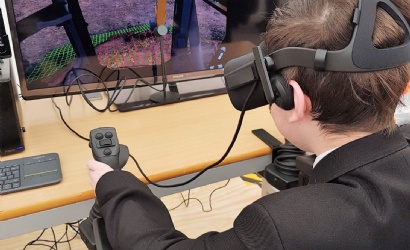 Students from Year 10 attended the Teen Tech / Robot Wars event which was part of the recent Construction Engineering Festival hosted by Northampton College.
They heard a talk given by Discovery Channel broadcaster Dallas Campbell about the first moon landing in 1969 and another about the international Robot Wars competition. They then had the opportunity to participate in a series of activities that allowed them to try out a wide range of construction skills.
These included; bricklaying, creating metal keyrings, changing the tyres on a car in a race against the clock, trying out virtual reality welding, predicting when earthquakes will occur and using magnets to guide a model excavator. Sydney Perrin and Emilia Magosz both said that attending the event had been really interesting and that trying out these new skills had opened their eyes to the different careers available in the engineering and construction industries.

The students also had the opportunity to prepare a project for the Teen Tech competition to produce an idea that could improve things for people or the environment. Two of the teams were particularly enthused by this and now intend to enter their ideas in the national Teen Tech competition. One, led by Nawaf Faisal, invented a Happiness Box for young children that would use sensors to detect their mood and provide comforting music and activities to help cheer up a child that was sad.
Sophie Bryce, whose team invented a smart bin that will use QR codes to recycle waste materials correctly, said; 'It was so exciting to get involved in this project and we are really looking forward to entering the national competition and developing our idea further so that we are able to produce a smart bin that actually works using this technology.'
To see photographs from the event click here.