KSA team wins two categories in Trust Bake Off 2019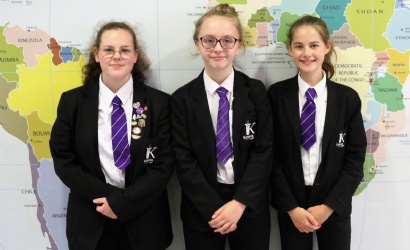 Well done to our Bake Off team that won the best sweet and best savoury item categories in the recent Trust Bake Off competition.
Our team comprised Jessica May from Year 9 and Amber and Isabella from Year 8. They chose a Roald Dahl theme for the competition, which is co-ordinated by Trust Catering Manager Chris Lapsley. He said: 'It has really been a good standard and each school is upping their game each year.'
Students have been preparing for weeks for the challenge, staying on after lessons to bake different recipes and create a themed menu especially for the event. The teams had to create three desserts, two savoury items and a drink.
Our team had just four and a half hours to get their food prepared at the final, held at Thomas Clarkson Academy. Chris Stewart and Tim Laws from the Trust Central Team, along with Chris Lapsley and two catering suppliers were on the judging panel. They scored each item on consistency presentation and taste.
Jessica said: 'We prepared everything in bits so we didn't get overwhelmed. The Bake Off competition has been really fun and it is nice to work with other people. The competition has helped me schedule my tasks and plan a project.'
Isabella said: 'We worked well together as a team, which was a big part of it.'
Amber said: 'I made pesto to go on the flatbreads, helped with other stuff and tidied up. It was a challenge today. I have learned that it is easier to work in a team and help each other.'
Design Technology teacher Hayley Wills said: 'I am so proud of them. Their confidence and independence has grown massively. They have learned to problem solve, been independent and prepared. They have been really committed to the competition and it has been enjoyable. I have loved watching the heats and seeing how they are progressing. The bakes have all been consistently good and the scones and individual pies have been a success.'
The team was named as runner up out of four Trust schools that took part in the competition.
To see a gallery of pictures from the event click here.