KSA holds first 'Festival of Reading'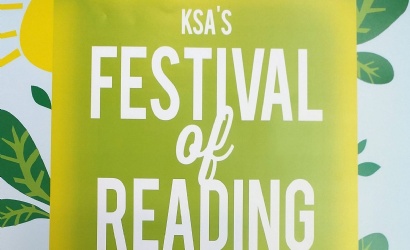 Kettering Science Academy held its first ever Festival of Reading where teachers staged a range of activities to share their love of books.
Students were able to choose from the following activities: reading and performing a play; studying vintage copies of the Beano and Dandy and then creating their own comic characters and comic strips; listening to audio excerpts from Alice in Wonderland and producing their own dream scape wonderlands; investigating song lyrics and singing along to their favourites; investigating how different newspapers interpret news events, writing and illustrating children's picture books and performing poetry aloud.
Some of the most popular sessions were 'personal reading' where students were simply given the opportunity to read their chosen books in the courtyard in the sunshine.
Staff across the school also got involved by decorating their classroom doors to represent their favourite books and joining the students to read when they have been free.
Head of English, Miss Evans, said 'This has been a lovely and purposeful end to the year where our children have been able to read a range of different texts – not for an assessment, but just for the love of reading. It ties in well with the increased focus on reading that we will be having next year for all students. Good reading skills are the key to accessing all of the school curriculum and the best way to improve your abilities in English is to read!'
The English department thanks all the teachers who supported the Festival of Reading activities.