Mr Segalini visits CCF cadets on Ex First Bite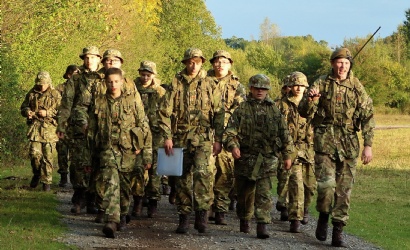 Principal Tony Segalini visited KSA students during two days of intensive training with the Trust Combined Cadet Force at the Yardley Chase Training Area.
Mr Segalini met instructors, toured the site and chatted with students who had taken part in the first day of 'Exercise First Bite', where a total of 120 newly-recruited cadets attended their first field-based training exercise.
As well as those from Kettering Science Academy and other Brooke Weston Trust schools, contingents from Lodge Park Academy, Sir Christopher Hatton Academy and Abbey College also attended.
The event, organised by Brooke Weston Trust CCF, provided introductory training for the cadets in fieldcraft, camouflage and concealment, basic patrol skills, navigation (using map and compass), first aid, cadet air rifle, a night patrol plus a light and noise demo at night.
The instruction at each exercise stand was provided by adult staff from the attending schools and academies and three training sergeants from the Cadet training team.
Each CCF operated at platoon strength with the instruction broken down to section strength. Additional support was provided by five senior cadets from Brooke Weston Trust CCF fulfilling a 'platoon sergeant' role to ensure that the junior cadets in their care were at the right place, at the right time with the right kit.
BWT contingent commander Capt Matt Isherwood said: 'It was a hugely rewarding exercise that will provide a great platform to launch the CCF careers of the new cadets, together with early exposure to all the adult staff from the CEP 500 schools of field based training in an extended exercise scenario.

'On behalf of Brooke Weston Trust CCF, sincere thanks for the effort and enthusiasm displayed by all the adult staff leading and supporting activities, without whose support the event would not have taken place.'
Mr Segalini said: 'It was really interesting going over to Yardley Chase, seeing what our cadets were up to and hearing more about the programme of activities in place. When I arrived they had finished the daytime activities and were preparing food on campfires before heading out for a night exercise. It was great to see the students so committed and enthusiastic about CCF, as it teaches a huge range of life skills, including team-building, resilience and survival skills.'