KSA students are happy and 'respect their school' where teachers 'have a heart' and leaders 'have a vision' - Ofsted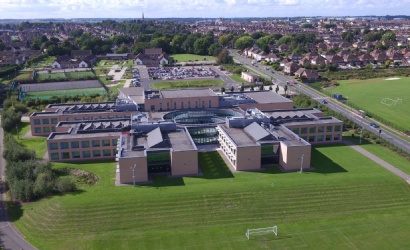 Ofsted inspectors say that students at Kettering Science Academy are happy and 'speak warmly about their supportive teachers' and that 'school leaders want pupils to succeed' and live up to the school's motto of 'being the best you can be.' They pinpointed key areas, such as the Sixth Form and Safeguarding for particularly positive comments in their most recent report.
Ofsted said they were confident leaders 'know what they need to do to improve the school' and receive strong support from governors and the Brooke Weston Trust: 'Leaders have a clear curriculum vision' and 'an ambitious vision for students in the Sixth Form'. It said that the maths curriculum is 'ambitious for pupils' and improvements in some subjects are having 'real impact.'
'Pupils believe that many of their teachers "have a heart". This helps them to feel safe. If bullying happens, pupils are confident that their teachers will sort it out quickly.' Behaviour has improved, as has attendance.
The report says the school is calm and 'the learning environment for pupils promotes their learning well … In some lessons pupils' behaviour is exemplary. They show real enthusiasm for their learning. They are keen to produce their best work.' Pupils respect their school, look smart in their uniform and value 'the hub' as a place of assistance and care. Parents and the community 'have a more positive view of the school.'
Inspectors found that arrangements for safeguarding are effective and that 'staff make sure that pupils learn how to keep themselves safe'. The designated safeguarding lead works effectively to make sure that pupils and their families receive the support they need.
Inspectors found: 'Sixth Form students are positive role models', behave well and are 'a credit' to the school, appreciating the help and support they receive, particularly when applying for future studies or training.
The report, written after a two-day inspection in October says that pupils take advantage of the wide range of after-school experiences on offer, appreciate the opportunity to learn new things and visit new places: 'They can try lots of sporting and cultural activities and many have been involved in environmental and community initiatives.'
Brooke Weston Trust CEO Dr Andrew Campbell said: 'Ofsted sees that Kettering Science Academy is a school with heart, soul and a vision for its students. It has great facilities, a committed staff and high ambitions for its future. Strategies already put in place are yielding positive results and The Brooke Weston Trust, Secondary Executive Principal Anne Hill and the leaders at the school are determined to continue their work to ensure that the Academy fulfils its potential.'
Kettering Science Academy's Principal Tony Segalini said: 'This report highlights the fact that our students value the school and feel safe and supported. It is gratifying that the inspectors noted the quality of our Sixth Form and Safeguarding provision. Kettering Science Academy is an evolving and enthusiastic learning community and I and my staff are determined to provide the very best that we can for our students, in order to encourage them to be the best that they can be.'