Award-Winning Author Inspires Students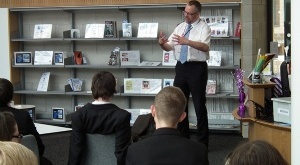 Popular children's author Alan Gibbons gave inspirational talks and led writing workshops when he visited the Academy this week.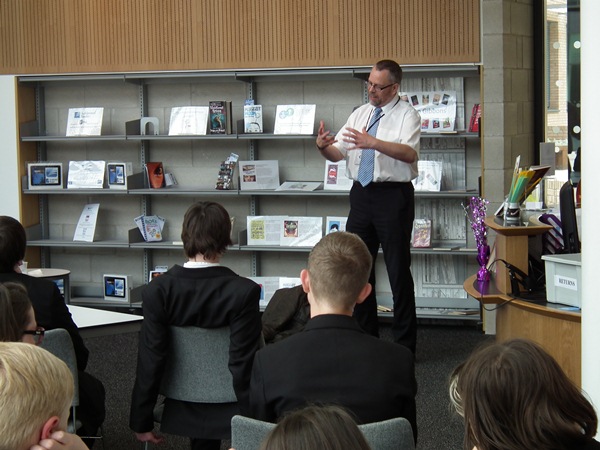 Popular children's author Alan Gibbons gave inspirational talks and led writing workshops when he visited the Academy this week.
Mr Gibbons, who has sold 1.5m books and won the Blue Peter Book Award 2000, gave a lively and humorous talk about how he became a published writer, what he draws inspiration from and the benefits of a career in writing.
He then held workshops where he gave students a plot and asked them to write short excerpts using descriptive language.
Mr Gibbons said: "The idea of talking to young people is that is shows them that writers are real and that they write about issues that are relevant to young people. Writing is part of your self-expression, like music and drama. It's a way of putting your stamp on the world. I want young people to know that to use language is cool, interesting and challenging."
Lead English teacher Caroline Hodgson organised the visit in conjunction with KSA's librarian Heidi Economou. Mrs Hodgson said: "For some students, the idea of writing feels so remote that it is just inspirational to have an actual author here, especially one as well-renowned as Alan Gibbons. He has shown them that anyone can write a story."
Caity Frankland, who is in Year 10, has read a number of Mr Gibbons' book so went along to meet him during a drop-in session at lunchtime.
She said: "I'm reading Demon's Assassin at the moment, which is about London during the Blitz. Alan Gibbons' writing is very interesting - he is very descriptive. When I heard he was in school, I wanted to go and see him because I wanted some information for my own stories. He explained that he visits the places he writes about or he goes to places to give him inspiration, so I have thought about doing that to help my own writing.
"I think having authors in like Alan Gibbons shows students here that reading and writing is important and how it can develop your life. If you don't read, you don't get to explore the world."
Some examples of students' work from the workshops (the title was Crash and the plot featured a road accident):
Liam Potts:
"Unwillingly, I twisted my head to the right. As my eyes strained to drag themselves over, I registered for the first time the figure hunched over next to me. Roger lay slanted, his breathing grated and hoarse. I heard it rattle through his ribcage before dismally rasping out of his cut lips. I lifted a limp arm and brushed off the glass from my face. I stretched the seatbelt from my chest, the weight of it successfully opposing my struggle, as I heard the tortured steel frame of the car groan in agony around me, resonating through my head."
Connor:
"Glimpsing Roger out of the corner of my eye, I spun my view to him. He was bent forward with glass trickled over the top of his blood-dotted skull. His gaze was whiter than the snowflakes falling on his lap. Fresh blood dribbled down his marble-white face and tentatively snaked around his sea-blue lips. The roaring wind ripped through the wreck of our Range Rover and cleared Roger of any glass. In the distance, the shout of rushing traffic flew over the hill towards me. The air bag in Roger's face slowly deflated, causing Roger to slump forward and hit the glass covered dashboard. The seatbelt tightened. What has happened, I wondered."
Follow Alan on Twitter - @mygibbo