KSA team wins award in Top of the Bench competition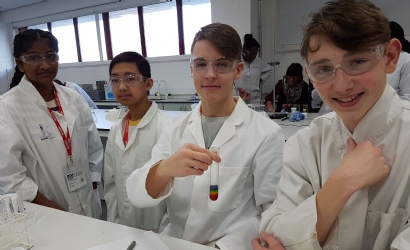 A team from Kettering Science Academy competed in the East Midlands regional final of the Top of the Bench chemistry competition organised by the Royal Society of Chemists and hosted at the University of Derby.
The team qualified for the regional final following their recent success in the area heats held at the University of Northampton in December.
The Kettering Science Academy team finished fifth out of 14 teams and won a special extra award for completing the best practical experiment and finishing it first.
They had to answer an exam paper of chemistry questions and calculations, before devising a method to produce a rainbow spectrum of colours, which was based upon the preparation of sugar solutions of different densities.
After the assessments, the students were given a lecture on fluorescent and phosphorescent light, including lots of demonstrations.
The team, who were from years 9, 10 and 11, comprised Stanley Chiam, Arany Nanthakumaran, Maciej Smolinksi and Dylan Hughes. They worked brilliantly together to achieve their success and were excellent representatives of the Academy. They said how much they had enjoyed the event and how they would love to attend again next year. The activities and challenges really stimulated their interest in chemistry and they all intend to take the subject at A Level and possibly beyond.
To see a gallery of pictures click here.