First glimpse of KSA's new Sixth Form Centre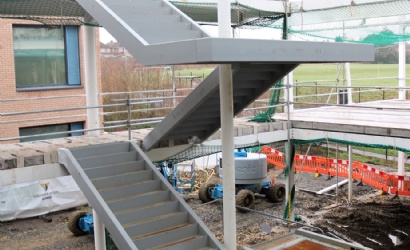 A group of delegates toured the new Sixth Form Centre which is currently under construction at Kettering Science Academy to see how the build is progressing.
The new centre, which is scheduled to open in September 2020, has three storeys, containing classrooms, a dining and common room, café, library and study areas. It will enhance Kettering Science Academy's offer to its Sixth Formers and cement the growing reputation of the school's post-16 provision.
Students have gone on to study a variety of courses at top universities, including Russell Group institutions and one, Sam Blackman, won a coveted place at Harvard. He regularly returns to talk to current students, encouraging them to aim high.
He said: 'The staff here are amazing and will commit their time to doing what you really care about - I couldn't have got into Harvard on my own. The staff saw me through the application process and made sure I was ticking all the boxes and beyond. I came here in in Year 7 and people had more ambition for me then than I had for myself. That has seen me to where I am now. Staff are happy to help you achieve and happy to help.
'The team behind the Sixth Form is phenomenal. They are committed to getting the students to where they want to be. There is a big emphasis on university and they are doing their best to make sure the students get the best for them. The teaching staff are really committed to their subjects, which is what you need for A Levels. As a student you are not going to be interested in someone talking about a subject that they, themselves, are not interested in. I spent most of my Sixth Form in the library and the staff there helped me out in so many ways and also encourage Sixth Formers to get involved in events and charity drives. The senior leadership team is also always around for you to talk to so it was amazing to have that sort of atmosphere in Sixth Form.'
The Sixth Form Centre will be connected to the existing building by a covered walkway and it has been carefully designed to complement the existing building and make the most of its elevated position overlooking the sports field.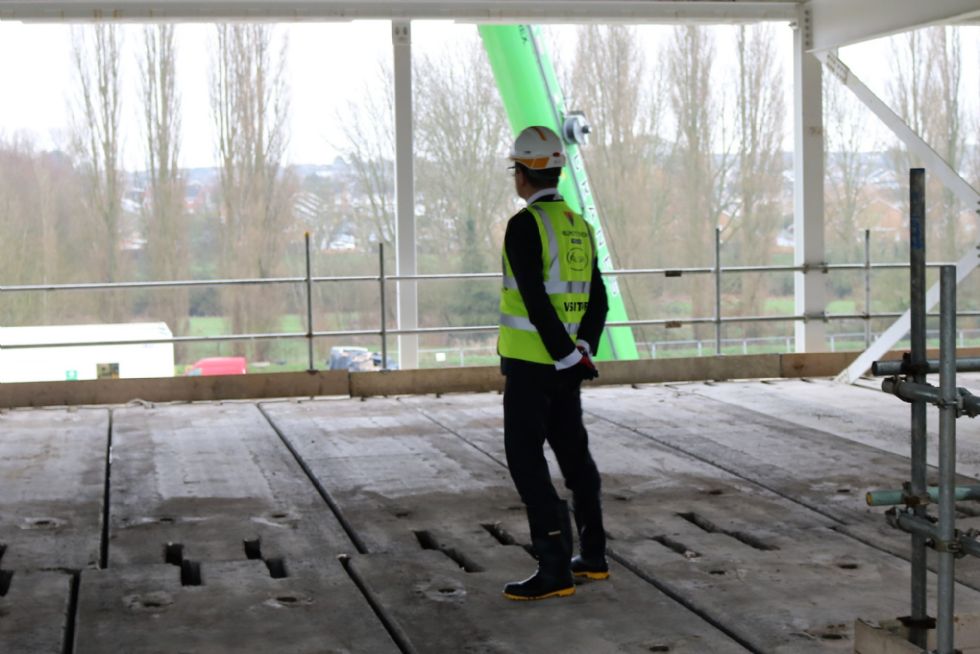 Trust CEO Dr Andrew Campbell, KSA's Principal Mr Tony Segalini and the Trust Senior Operations Manager, Tim Laws were shown around the new facility by the build team, including Trust Estates Director Matt Isherwood and Allun O' Brien, senior build manager from Willmott Dixon. Mr Chris Wickens from Northants County Council also made a site visit.
Mr O' Brien said: 'We have had a really good start. The steelwork went up quickly and, over the next three weeks, we should start to see the full structure of the building. We split the project into three; a third of it is getting the foundations in and the building out of the ground. We are in the second stage at the moment and looking to be watertight by the end of April and there will be internal blockwork, fixtures and fittings installed in phase three.'
Mr Segalini said: 'This is another proud moment in Kettering Science Academy's history. This will be a fantastic space for our successful and growing Sixth Form. It is impressive at the moment, however when it is clad and finished it will really be a state of the art facility for our students and we can't wait to see the finished building.'
Trust CEO Dr Andrew Campbell said: 'Thanks to the vision and financial support of Northants County Council this is yet another great educational opportunity for our students in Kettering. There has been so much care and attention put into its planning and construction that it will be a high quality addition to the education offer we provide for our local community.'
To see a gallery of pictures click here.