KSA students can vote for their favourite Carnegie/Greenaway books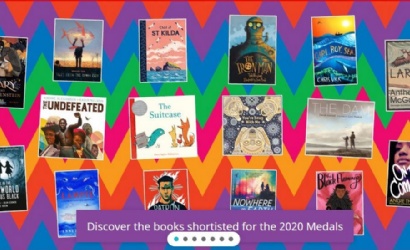 Although the winners for this year's Carnegie/Greenaway Awards have been announced, KSA students can still vote for their favourite titles from this year's nominees.
Schools across the Brooke Weston Trust traditionally 'shadow' the awards, discussing the shortlisted books and holding a celebration event where they meet up and talk about their favourites. This year, due to the Covid-19 pandemic, the shadowing scheme has now been extended which gives readers more time to read and vote.
The winning Carnegie title was Lark by Anthony McGowan while Tales from the Inner City by Shaun Tan was awarded the Kate Greenaway Medal.
The award organisers said: 'Both books use captivating words and images to explore humankind's relationship with nature, alongside themes of survival. Lark tells the story of two brothers, Nicky and Kenny, who set out for an adventure in the North Yorkshire Moors only to be caught in a precarious blizzard when weather conditions take a turn. Throughout the book, the brothers display a deep respect and understanding of nature, which ultimately grants them consolation as they wait to be rescued. McGowan's prose paints nature as a source of wonder and joy, but also peril.
'Tales from the Inner City, a collection of 25 illustrated stories, was borne out of Tan's life-long love of animals and deals with the separation and tension between the natural and artificial world. Tan believes that many of the problems we face today may have something to do with the distance from nature in a post-colonial and post-industrial world, especially within urban spaces. Throughout the book, Tan reminds readers that we are all interconnected with nature.'
Our librarian, Heidi Economou, said: 'With school hopefully reopening in September both Carnegie and Greenaway books are going to form the basis of reading in Book Club.
'As part of our engaging teachers with student reading choices lots of our teachers have been reading the books. Our favourite book has been The Black Flamingo by Dean Atta, which was read by Miss Davies (Head of Sixth) Mr Foster (Head of Dept.) and Miss Evans (Head of Dept. EN) and it set Teams alight with our rave reviews.
'I think this has been the best selection of books yet, and I think both deserved to win. I absolutely adore Sean Tan, so for him to win the Greenaway was fabulous. Mr Bean (Teacher of Art) is also a fan and has snaffled my copy of Tales from the Inner City making many appreciative noises as he left the library! We tend to utilize the Greenaway books for work with both our SEN students and Art students so it will be interesting to see what work comes from the titles this year.'
Corby Business Academy's librarian Amy McKay is the national co-ordinator for the Carnegie/Greenaway scheme and she has hosted an online video featuring the panellists and many of the authors which can be accessed here.
She said: 'I'm really proud of this year's winners and that in such odd circumstances the awards continue to forge ahead. I'm particularly excited that we have a Carnegie winner that is accessible to readers of all abilities; it's a fantastic story, full of humour, suspense and warmth. Tissues are likely to be needed though! It's a book that I know will be a firm favourite with many BWT students. Extending the shadowing scheme is a great opportunity for schools to continue to promote and share the shortlisted books, I can't wait to see which books are selected for the Shadowers' Choice Awards in October.'
The Shadowers' choice voting will be open from 21 September to 2 October and results will be announced on 9 October, which coincides with National Libraries Week.
To access the resources and find out about the books click here.