Sixth Former accepted onto prestigious Master Cadets course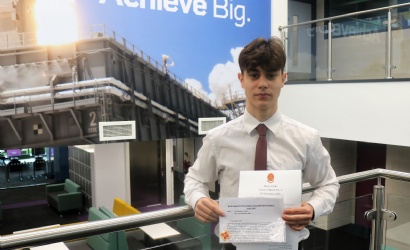 Congratulations to Sixth Former Paul Ile who has been accepted onto the prestigious Master Cadet course which is run by the Army Cadet Force.
This year the course has accepted applications from CCF cadets for the first time ever and only 12 from across the country are being accepted. Paul had an online interview before his place was confirmed. This is a huge achievement for him and shows how the calibre of the Trust CCF cadets is going from strength to strength.
He was interviewed by Col Marc Godfrey who said: 'As a senior cadet he feels a great sense of fulfilment in encouraging junior cadets and sees the appointment of a MC as being a significant boost to morale in the contingent. He will be a leader, role model and unifier within the contingent. He views the cadets as something of a family, offering lasting friendships and a sense of camaraderie but also a source of growing skills: confidence, communication skills and leadership … He will be an excellent role model and I am pleased to recommend him for the appointment of Master Cadet.'
Paul, from Year 13, said: 'I have been involved in CCF for four years. CCF has allowed me to stand up in front of people and talk to them with confidence. It has also given me leadership skills. You also get the aspect of teamwork and getting along with people. Getting onto the Master Cadet course is a massive achievement and I am very proud.'
Mr Tony Segalini, Principal at Kettering Science Academy said: 'Paul is a fantastic role model to our students and shows just what can be achieved with hard work, commitment and an ambition to aim high. Everyone at the Academy sends him huge congratulations on this achievement.'
WO1 Nigel Barrett from the Trust Combined Cadet Force said: 'This is a brilliant opportunity for Paul. He is a fine example of a senior cadet and his skills, leadership and confidence have all developed massively during his time in the Combined Cadet Force. He is a credit to himself, Kettering Science Academy and to the contingent as a whole.'