A Level Students at Kettering Science Academy praised for results success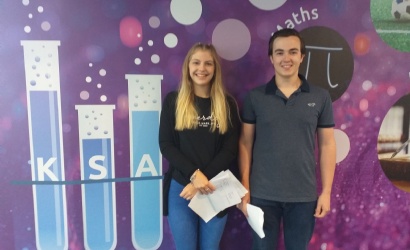 Despite a challenging year, students and staff at Kettering Science Academy, part of Brooke Weston Trust, are celebrating A-Level results day success.
As summer examinations were cancelled again this year, students taking AS and A levels regulated by Ofqual were awarded grades based on an assessment by their teachers.
Tony Segalini, Principal at Kettering Science Academy said: "We are so pleased with our students' achievements during what has been an incredibly difficult few years. Despite having to balance restrictions alongside their studies, students have not let this negatively impact their education and their excellent results speak for themselves.
"Alongside the positive comments in our recent Ofsted monitoring inspection, these results show that we are continuing to make significant progress as a school. I couldn't be prouder of our caring and encouraging school community, which has our students at the heart of everything we do, and we have continued to support them all to be the best they can be"
Noticeable successes:
Connor Perkis 5 A*s (Maths, Further maths, Physics, Computer Science, EPQ) off to University of Cambridge to study Computer Science
Amy Dimmock 3A*s (Biology, Chemistry, Psychology) off to University of Hertfordshire to study paramedic Science
Sara Dinu 2A*s A (Biology, Chemistry, Maths) off to UEA to study medicine
Petra Horvath 2A*s A (Law, Geography, English) off to University of York to study Law
Ben Walpole A* 2As (Chemistry, Biology, Maths) off to university of York to study Chemistry.
Nermeen Symon Ghouri 3As (biology, Chemistry, Maths) off to De Montfort university to study pharmacy
Andrei Bratu 3As B (Biology, Chemistry, EPQ, Psychology) off to Southampton to study cardiac Physiology