James Acaster and friends visit KSA students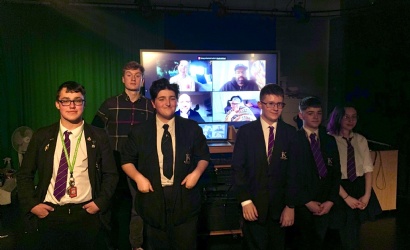 A unique work experience placement for our students!
At the beginning of this term we launched a very exciting and unusual work experience initiative which allowed a number of our students to work closely with James Acaster, a celebrity comedian, who coached them on the art of making people laugh! As the programme comes to a close this term, we can reflect on this rare and unique opportunity.

Work experience is an important part of a young person's development, as it allows them to explore different career options first hand. It gives them the opportunity to understand what is required of them in the world of work, and work alongside different people, completing tasks which are sometimes
new to them, taking them outside their comfort zone. This work experience programme did just that!

Working alongside a charity organisation called Speakers for Schools, the programme involved five in-depth sessions, where our students were able to work closely with James to practice, develop and learn the fundamentals of a good stand-up routine, as he helped to inspire the next generation of comedians, whilst equipping them with vital soft skills like confidence, creativity and resilience, all essential attributes and competences whichever career they eventually choose.
The programme culminated with a performance recorded on camera on the 31st March, enabling the students to showcase their comedic skills, performing to James and his comedy friends, Katherine Ryan, Romesh Ranganathan, Desiree Burch and Tom Allen who not only laughed and applauded the young protégées, but gave positive, constructive feedback.
Reflecting on her experience, Catherine Abraham, Year 10 said "I have always been interested in the performing arts and I am really pleased to have this opportunity to improve my comedic skills and stage presence. Never in my wildest dreams did I think I would ever have the opportunity to be coached by a famous comedian! James has been so supportive during our workshops, and I know I'm not alone when I say that we all really appreciate him taking the time to share his advice and top tips."
James Acaster, comedian and workshop host, comments: "Work experience doesn't have to be in an office or corporate environment, but it is often the norm. For young people hoping to follow a different career path, it can be tough finding any opportunities that help you get there. Back when I was first starting out in comedy, I managed to attend a workshop in Kettering which enabled me to grow in ability and confidence. This is exactly what I wanted to replicate with this programme, helping students find their individual voices and hopefully achieve their dreams."
Our students have also had first-hand experience of dealing with the 'Press' as both BBC and ITV turned up on the day, to interview the students, which was aired in their local news shows, together with a story on BBC Radio Northampton. The whole programme was also filmed by Plastic Pictures so the students will have a record of the journey they have been on throughout this unique experience.
See link here: - BBC News, https://www.itv.com/news/anglia/2022-04-03/lessons-in-laughter-james-acasters-comedy-masterclass-for-kids-in-his-hometown
And here:- Speakers for Schools