Celebrations at Kettering Science Academy for new Ofsted rating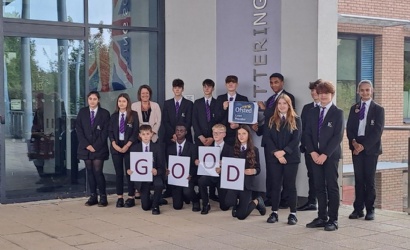 Good Ofsted celebrated by KSA staff and students.
Staff, students and parents at Kettering Science Academy (KSA) are proudly celebrating this week - after securing high praise from Ofsted inspectors in their latest report.
The school has achieved an overall 'Good' rating, with inspectors commending the leadership for having "transformed this school" since its previous graded inspection in 2019, when it was given a 'requires improvement' rating.
The news comes as the school, which is part of Brooke Weston Trust, enters an exciting next chapter, with a new Principal at the helm. The much-loved outgoing Principal, Tony Segalini who led the school for seven years, was instrumental in the transformation – as noted in the report, published earlier this week.
Tony said his goodbyes to the school community at the end of last term, making way for Jennie Giovanelli, who took up the post at the start of this academic year, bringing with her a proven track record in school leadership, Ofsted success and exam performance.
Colleagues at KSA praised Tony for his strong leadership and for bringing about improvements in the quality of education and the behaviour of students.
Indeed, the report noted that: 'All students now receive a much better quality of education' and that 'Leaders, with the help of the trust, have transformed this school'.
Jennie Giovanelli, the new Principal said:
"Today is a very proud day for everyone in our school community. We are delighted with the grading and more importantly, the many fantastic comments made by Ofsted inspectors.
"They were able to see with their own eyes exactly why KSA is such a good school now, and this is thanks to the significant work of Tony and his team over these past few years.
"I am particularly pleased that the report picked up on the fact that our students understand the high expectations we have of them, observing that we, as staff, care passionately about developing all students to be the best that they can be" she added.
Inspectors found that students "conduct themselves well in and around school", noting that the curriculum for behaviour, more commonly known as 'the KSA way' has been instrumental in helping the students to develop better behaviour, as well as their strength of character.
The report continued to applaud staff and leaders of the school in all areas:
The curriculum at this school has been reshaped. Leaders, including those from the trust, have ensured that the curriculum is broad and ambitious for all students.
Most teachers have expert subject knowledge. Leaders have prioritised teacher training so that teachers use effective methods to help students know more.
Leaders expertly monitor the quality of education to make sure that teachers deliver the curriculum effectively. They have ensured that there is consistency in teaching, which helps students to develop knowledge across many subjects.
Leaders are ambitious for students with special educational needs and/or disabilities (SEND). Teachers adapt their teaching skilfully so that students with SEND undertake the same learning as others.
Students in the sixth form are well-supported by subject experts. They receive an ambitious curriculum, and outcomes for these students are improving.
Students in the sixth form hold wholly positive views of the education they receive.
One student summed up the views of many when he said, 'The sixth form is like a family. I would not want to attend anywhere else.'
Teachers develop students in the widest sense. They have an age-appropriate understanding of relationships education.
Trustees, governors and leaders work in partnership. Decisions made at the highest level have helped to improve the school.
The arrangements for safeguarding are effective. Staff are vigilant and highly trained to recognise the signs that a pupil might be at risk.
Students benefit from a range of after-school extra-curricular activities in the 'co-curriculum'. More recently, pupils engaged with a range of employers during the 'world of work' days. This is another way that the school helps to build pupils' aspirations.
Steve Barton, Chair of Governors at the school said: "I am so pleased with this Ofsted rating. It's a testament to the solid foundations that have been laid in recent years and sets KSA up brilliantly for continued growth. The hard work and dedication of Tony and the leadership team have provided our community with a school to be proud of, giving all students the opportunity of a great start in life."
Andrew Campbell, Chief Executive Officer of Brooke Weston Trust said: "I am thrilled for the entire KSA community today. Everyone has played a role in transforming it into the school that our community deserves. The caring culture is thanks to the strong relationships that exist between staff, students and parents. They exemplify our Brooke Weston Trust value of 'Ambition for all'.
"We've come a long way, and I'm excited to see what the future holds for everyone at KSA." He concluded.
The full report can be found on the Ofsted Website: https://reports.ofsted.gov.uk/provider/23/135967