Da Vinci House Donates to Kettering Foodbank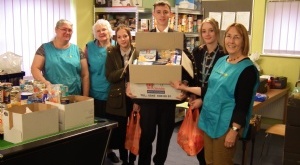 Da Vinci house donated a box of food which will be distributed to those in need in Kettering.
Staff from Kettering Foodbank visited the Academy to talk about the work they do to provide food to those on low incomes, people with social difficulties or mental health issues and the elderly.
Da Vinci decided to support the campaign and leading the way was Da Vinci 10, which was the first form group to put a box of items together. Sixth formers Alice Burke and Tiana Ayvaliklis (pictured) have also instrumental in the appeal.
Sandeep Tara, head of art and design and learning mentor for Da Vinci 10, said: "One the many strengths of this Academy is our empathy and determination to support those in greatest need. By doing good to others, we do as much, or more, good to ourselves. It was for this reason that we chose the Kettering Foodbank as our House charity for this academic year. With the support of Da Vinci Sixth Form, students from Da Vinci 10 have been collecting amenities and organising parcels to be distributed every Friday at the Food Bank."
The Foodbank is part of the St Jude's community project in Northampton Road. Volunteers at the centre told the students how families in need are referred to them. They said schools and other organisations play a vital role in helping to replenish their stocks, especially during harvest festivals.
The students also learned that many people who have benefited from the service go on to contribute to the supplies once they stop needing the Foodbank.
Year 11 student Javan Faultless (also pictured) made a considerable donation. He said: "My family and I decided to donate food because the thought of people with nothing to eat played on our minds. We searched the kitchen and gave what we could."
Kettering Foodbank has a Facebook page which is updated regularly with appeals when there is a shortage of certain foods.
If you have any non-perishable food to donate (tinned food, cereals, pasta, soup etc), please drop it off at reception for the attention of Mr Tara.