Matthew Lends a Helping Hand on Pilgrimage for the Disabled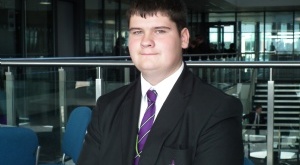 Matthew Mclaren spent 10 days during the summer holiday assisting people with disabilities during a pilgrimage to Lourdes.
After hearing an appeal for volunteers from the Kettering and District Sick Pilgrims Trust, which runs the trip, Matthew decided to offer his help. The group travelled on a specially adapted coach called a jumbulance for the 22-hour journey to France.
Matthew, who is in Year 11, was the youngest volunteer on the trip. He knows only too well the difficulties faced by those living with a disability as his aunt is in a wheelchair. He said: "I like helping people so when I heard that they needed volunteers for the trip, I said I'd go. I'd been once before but I was too young to actually help.
"The people we were caring for were called 'VIPs' and we helped them to get around and carry out daily tasks. We spent time exploring the area and getting to know its history.
"It's a religious trip for people and it also gives them a chance to have a holiday, because they can't get away themselves. I'd definitely go again."