A Modern Take on Shakespeare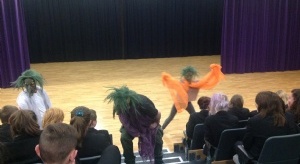 The Young Shakespeare Company put a modern and alternative twist on one of Shakespeare's most famous plays when they performed scenes from Macbeth.
Through the dynamic and engaging workshop session, Year 10 literature students were able to get a real understanding of different ways to interpret a 600-year-old text.
English teacher Ruth Guy said: "Our students watched as the actors brought the characters of Macbeth, the witches and Banquo to life. Suitably inspired, the English department are now enjoying reading the students' wonderful analysis of the play as part of their GCSE controlled assessment."
Review by Ramendeep Hayer:
"On the 14th of October we watched a London theatre company do a rendition of the play Macbeth. For us it was really helpful and beneficial as we could use their ideas and apply them to our own work in lesson.
"In addition it was fun and easy to follow. It gave us an insight into the play and gave us a good idea of Shakespeare's intentions.
"Overall the play was a good use of time and a helpful resource for our essays."