Mock Results Day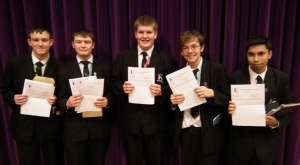 Year 11 students were given an insight into how they might feel on GCSE results day this summer when the Academy held a mock results day.
Parents were invited in and Principal Paul Davies spoke to students about the importance of the next few months before the results from mock exams sat before Christmas were handed out.
Mr Davies told them: "On results day in the summer, you don't get to do it again. People always get the results they deserve, not necessarily the ones they want.
"If it goes well, you will feel like the sun is shining down on you because of the opportunities and doors that will be open to you. You want that feeling of exhilaration and advantage that you will have earned. You don't want to be thinking that now you can't take up that college place, apprenticeship or job.
"I have to commend Year 11 because colleagues have said that in living memory, this is the most enthusiastic and dedicated Year 11 they have seen. The way you prepared for your mocks is the best I have ever seen."
Vice Principal Kirsty Farrar spoke about how students can learn from the attitude of the British cycling team, which picked up a medal in every event at the 2012 Olympics. She said: "They had achieved similar success at the previous Olympics but they didn't just sit back. They looked at marginal gains and analysed everything to see what they could do better. Nothing was left to chance.
"You might not be able to do it all yourself – you might need the help of teachers, your parents, friends, the library."
Students were also advised to speak to staff if they started to feel overwhelmed by the pressure of exams.
Some students received the results of real GCSE maths exams taken last term – pictured are five students who all achieved an A*.
Jess Hallett was among those who were delighted with her results from the mock exams, picking up three As and three Bs. She said: "I think it's useful to have a day like today because the anticipation gets you in the mind-set for the real thing – you know it's your last chance now. It's also good to face your parents with the results of what you've been doing at school."
Dylan Birk achieved two A*s, three As and one B but is determined to improve in the next few months. He said: "Overall I'm pleased because I think it reflects my hard work and makes you realise you're getting something out of what you put in. It's also a confidence boost ahead of the real exams. For me, it's that idea of marginal gains and moving from an A to an A*."
A number of students whose parents were unable to attend called their families to deliver the good news.