Literacy Focus For All Lessons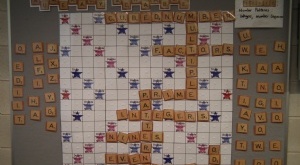 The drive to improve standards in reading and writing has continued this term, with teachers now displaying interactive literacy boards that will be incorporated into students' learning across every subject.
Each literacy board is subject specific and is designed to help students becoming familiar with the spelling and articulation of words associated with each subject. It will also help to widen students' vocabulary and increase their confidence in reading and writing.
Staff have come up with some imaginative designs, including a Scrabble board in the maths department (pictured).
English teacher Caroline Hodgson, who is leading the initiative, said: "The purpose of the boards is to ensure that all departments are making literacy a priority. It's about keeping it at the forefront of their minds and the students'. It's also helped to create conversations about literacy amongst staff and it's something students will see and use in every lesson."
Eventually, the development of the literacy boards will be student-led and there will be a competition to see which class produces the most outstanding board.
The literacy drive is currently focussing on pre-reading strategies to ensure that before students interact with a text or question, they actively read and understand it to become more engaged in their work.