Lights, Camera And Action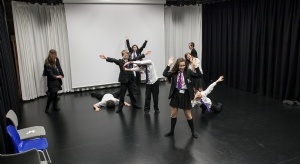 The expressive arts department at Kettering Science Academy are looking for budding young film makers to represent the Academy in a national competition.
Budding young film-makers are being looked for at Kettering Science Academy to represent the school in a national competition.
A call has gone out to students to register their interest in the Lights, Camera, Parliament Competition with the head of expressive arts, Miss Julia Mallard as soon as possible, with entries due in by the end of February.
Miss Mallard explained: "It is a free filmmaking competition for young people (aged 7-18) to send in three minute films on a law they would like to introduce in the UK. It offers the opportunity for young people to creatively engage in Parliament and law making, as well as win some great prizes, including the opportunity to showcase their films at the British Film Institute."
Next Tuesday, 27th January, interested students are being invited to meet for a 'How to edit' session to take place in AMI 1.08 after school.
Then for a following three weeks on a Tuesday, the students will be asked to meet in the drama studio after school to work on the school's film entry.
Any students who are interested in taking part in the competition are being asked to see Miss Mallard for more information.
The entries will be judged on creativity and a clear articulation of ideas and no previous experience in film-making is required.
For more information visit the competition website: www.makewav.es/lcp

Timetable for the competition entry at KSA:
Tuesday, 27th January – How to edit! - AMI 1.08
Tuesday, 3rd February – Performance Support - Drama Studio
Tuesday, 10th February – Performance Support - Drama Studio
Tuesday, 24th February – Reviewing submissions - Drama Studio.