Book Tokens Competition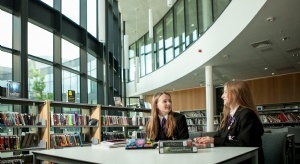 The Academy's library needs your help.
The Academy's library needs your help.
Library staff at Kettering Science Academy are calling on all colleagues, students and their families to enter into a national book tokens competition to provide the Academy with the chance to win £2,500 worth of tokens.
The competition, being run on The National Book Tokens' website, is giving schools throughout the country the opportunity to win the tokens to benefit their school's library, plus £100 for the winning individual who has entered for their school.
Head Librarian at Kettering Science Academy, Heidi Economou said: "We would like to encourage as many people as possible to enter the competition on behalf of KSA. The more entries a school has, the greater our chances of winning. It would be great to win such an amount to spend on books and it would benefit the whole of the Academy."

To enter the on-line competition, please click the website link and fill in an entry form:http://www.nationalbooktokens.com/schools#.VXhA8U2D7IU

The closing date for entries is July 31st.