Interviews For Cambridge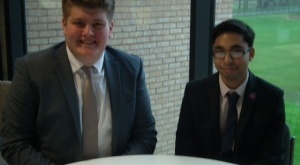 Two of our Year 13 students have been interviewed for places at Cambridge University.

Two of our Year 13 students have been interviewed for places at Cambridge University.
Daniel Warren and Dylan Birk have been interviewed for courses at two different colleges at Cambridge.
Daniel was invited to Christ's College on Monday 7th December and was interviewed by lecturers for a place on the college's law course from autumn 2016.
Daniel said: "It was a real experience and a very different interview to any others I have had before. There was a lot of problem solving involved. I was interviewed by course lecturers at the college, who also asked me questions based on my personal statement. I had two interviews and I also had to complete a test. It was a great opportunity to be asked along for an interview, to meet some of the college lecturers and also to visit Cambridge University."
He added: "I put a lot into my preparation for the interview and I received help and support from teachers at KSA and the careers advisors from Timely Advice. They prepared us for the more complex questioning that made you really think about your answers."
Head Boy, Dylan was interviewed on Monday 14th December at Sidney Sussex College for a place for the college's medicine course.
Dylan said: "I was really well prepared for the interview and I received a lot support from the school before the interview. The support from staff and fellow students was exceptional and I couldn't have been more prepared for it. I had two 30 minute interviews about various medical concepts and I had to respond with my answers there and then and think on the spot."
He added: "It went as well as it possible could have gone and I feel I couldn't have done any more than I did. I definitely did the best I possibly could."
Both students will find out in January from Cambridge University whether they have secured places on their chosen courses.