Mock GCSE Exam Results Day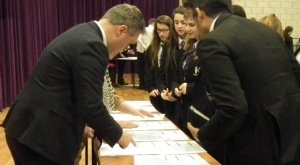 Year 11 Students were presented with their mock examination results at a special assembly on, Friday, 8th January.


Year 11 Students were presented with their mock examination results at a special assembly on, Friday, 8th January.
The trial run for the summer results day also provided important reflection time for students to think about their future pathways and where they would like their grades to take them.
Progress leader for Year 11, Mrs Amanda Doherty spoke at the mock results assembly, she said: "I would firstly like to celebrate your successes and say well done for conducting yourselves so well during the mock examinations. You all turned up prepared and that is what you will need you to be like for your examinations in the summer."
She added: "This is like your 'health check' today, you still have time to make a different before the real exams and you have time to think about what you need to do. There are still chances to make a difference now that can have an impact on your future pathways and we are all here to help and support you. I wish all the best of luck."
Assistant Vice Principal and head of Sixth Form, Miss Jane Watson was also on hand to speak to students and a representative from Timely Advice, who was there to offer students advice on other options available to them after their exams.
Miss Watson said: "What I see in front of me is a lot of potential and what you do now going forward will make a difference to your lives. Getting good grades is not just important for now but also for your future life chances."
Miss Watson went on to explain about the options available to them from staying on to Sixth Form, college courses, apprenticeships and getting a job with training attached to a role, but she also pointed out to get accepted students in most cases needed at least 5 GCSE grade C or above and she also reminded them how competitive and sought after some of of the courses and the apprenticeship roles can be.
She added: "You now have time to think how to fix any mistakes made in your mocks and learn from them, there is still time to get your grades sorted."
Principal Mr Paul Davies, also addressed the students and talked about the successes of the Harry Potter author, JK Rowling. He spoke of how she has worked hard to achieve what she has in her life.
He said that he wanted to encourage the students to work hard now to allow them to have many opportunities opened to them in the future.
Mr Davies added: "I hope you get all the results you want."
Students then lined up to receive their mock results reports.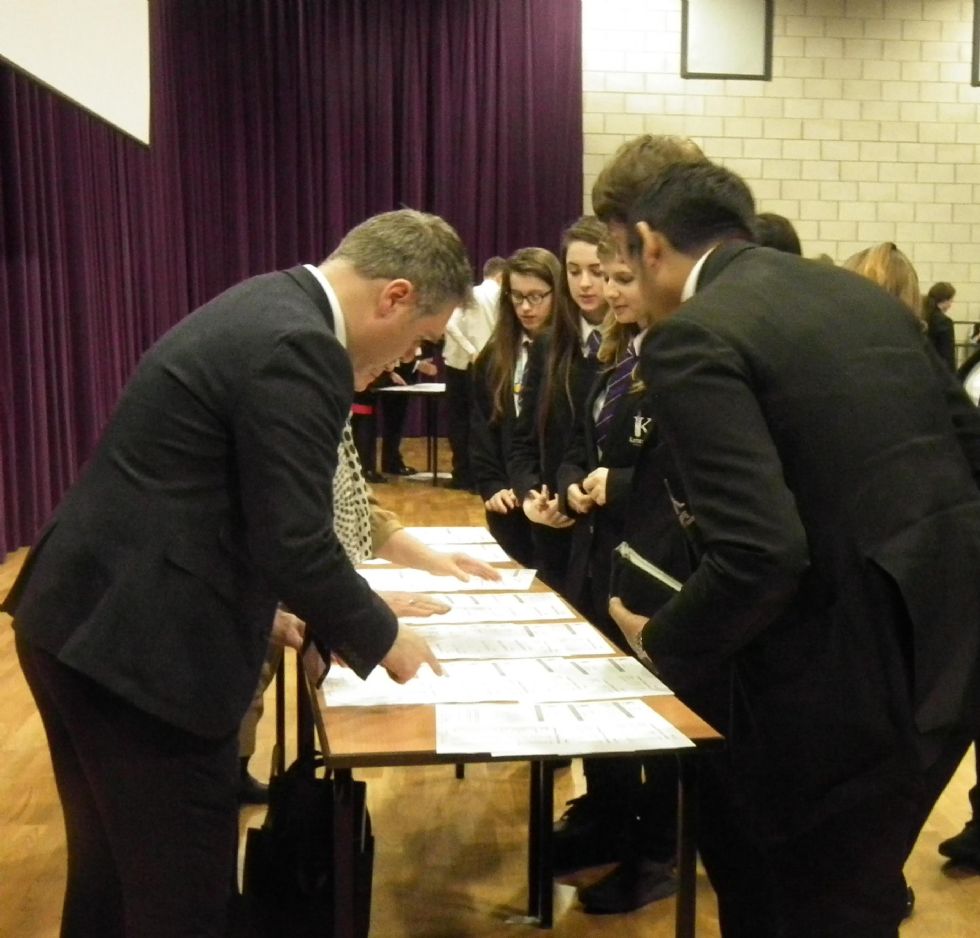 Year 11 Student, Alicia Pickering said: "My results were alright, but I do know I need to start putting the work in and I need to concentrate a bit more. I am still pleased with my results."
Lilly Houghton said: "I do now know what areas I need to work on, but I wasn't disappointed with my results, they were what I expected to get. Today has reminded me that I still need to work hard to get the results I would like."
Joseph Daniel -Wileman said: "I did alright and got the grades I expected to receive, but I know now I need to revise more in some subjects. I do think today was also important for us to think about our futures."
Shereen Rehman said: "I am really pleased with my grades and some will be higher in the end because of coursework. There is still time to get different grades and having the practice with the mocks is important, the more practice the better. Today has been important giving us an experience of the real results day and how we might feel when we are being handed our grades."