Lord Lieutenant Praises Cadets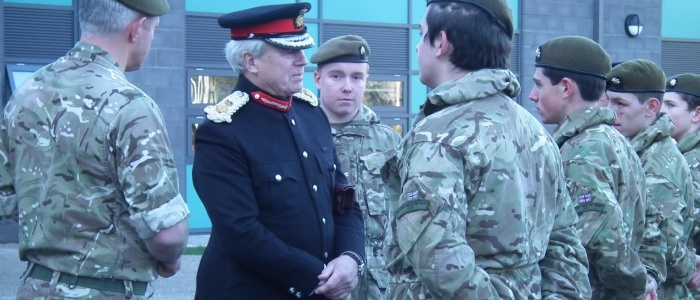 Our Brooke Weston Trust cadets were praised by the Lord Lieutenant for the county at a recent parade day.


Our Brooke Weston Trust cadets were praised by the Lord Lieutenant for the county at a recent parade day.
The Lord Lieutenant for Northamptonshire, David Laing, was invited to meet with the Brooke Weston Trust Combined Cadet Force recruits, including students from KSA, on Friday, 15th January at their regular training base of Corby Technical School.
The Lord Lieutenant wore his uniform Blues for his official visit and was accompanied by Lieutenant Colonel Robert Blomfield.
The parade and salute for the Lord Lieutenant was led by the corporal for the cadets, Sonny Dalziel, a Year 11 Student from Corby Business Academy.
After the cadets' parade, inspection and the presentation of first year rank slides, Lord Lt David Laing said: "I am incredibly impressed by the way all of you have chosen to be here as part of the Cadets."
He added: "I am impressed by your firm handshakes and your confidence levels, which you displayed when you have been speaking to me today. I can tell from the way in which you have presented yourselves that you are going to go a long way. It has been a great privilege."
Lord Laing spoke highly of the opportunities being presented to the students through the BWT Combined Cadet Force programme.
He said it was important such options existed within schools and that it was offered alongside the academic studies.
The BWT Combined Cadet Force is in its second year, but in its first year of operating independently, after being under the supervision and guidance of Oundle School in its establishing year.
It now operates as part of the Royal Anglian Regiment and is made up of 50 cadets selected from the five secondary schools within the Trust: Corby Technical School, Corby Business Academy, Brooke Weston Academy, Kettering Science Academy and Thomas Clarkson Academy.
Contingent Commander for the BWT CCF, Captain Matthew Isherwood said: "To be part of the BWT Combine Cadet Force is seen as a great privilege and the students volunteer and are interviewed for the cadet places, and we will be soon be advertising for next year's cadets."
Mr Isherwood added: "Each year we are going to get bigger and better and we will be able to offer more and more."
The cadets currently meet for two hours of training each week and learn various field crafts and activities; everything from navigation, parade marches, drills to air rifle control.
Future expansion plans for the Trust's CCF include the possibility of establishing a Sixth Form cadet operation which will help Sixth Formers to gain valuable leadership and management skills for their future careers.
Current cadets have also shown interest in applying for the Defence College in Leicestershire, Welbeck to carry on with their military training further.