Race To The Top Launch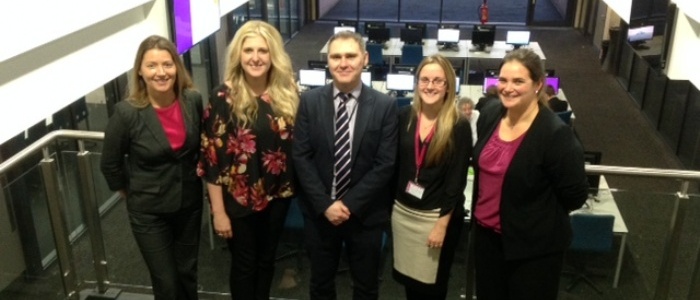 The Academy's Race To The Top programme was officially launched at KSA last Tuesday, 19th January.
The Academy's Race To The Top programme was officially launched at KSA last Tuesday, 19th January.
Parents of the students selected for the initiative were invited to the launch evening to hear more about the benefits of the scheme.
The aim of the RTTT programme is to improve on the aspirations of the higher attaining students across the year groups in the Secondary Phase and to offer these selected individuals a range of educational experiences to further enhance their learning.
Vice Principal and lead staff member for RTTT, Mr Simon Anderson said: "Race To The Top is a joint initiative being run between ourselves and Corby Business Academy to help and support high achieving students from across the Academy. We are, through the programme, looking to help develop their strengths further and challenge them to achieve the best grades.
"We have now set out our mandate to the parents for raising the aspirations of these individuals and we will be working with them to increase their achievement levels to enable them in the future to apply and receive offers for places at some of the top universities."
Head of Sixth Form, Miss Jane Watson also spoke at the launch event and talked about their future prospects and the Sixth Form support available to them to succeed.
The Race To The Top calendar of events and trips was also introduced to the students and their families on the evening.
The first of the trips, as part of the programme, takes place tomorrow, Friday 29th January, which will see a group of Year 11 students being taken to Loughborough University to look around the university's campus and view its world-class sporting facilities.
A space workshop is also being hosted at Corby Business Academy this Saturday 30th January and a group of our students have been invited to attend the event being run by the National Space Centre and will involve students dealing with a crisis management scenario.
A trip to the British Library is also taking place on Monday 8th February.
Mr Anderson added: "The feedback from the parents and the students involved has been all positive.We met with the Key Stage 3 students last Thursday and they were all very interested in what is involved, including the activities happening outside of normal school hours."

Teachers involved in the Race To The Top programme are: Miss Lorraine Taylor, Miss Sophie George, Miss Rachael Davies, Mr Stephen Reid and Miss Ann Reeve-Mavrommatis (some of which are pictured above with Mr Anderson).