Stand up to Cancer campaign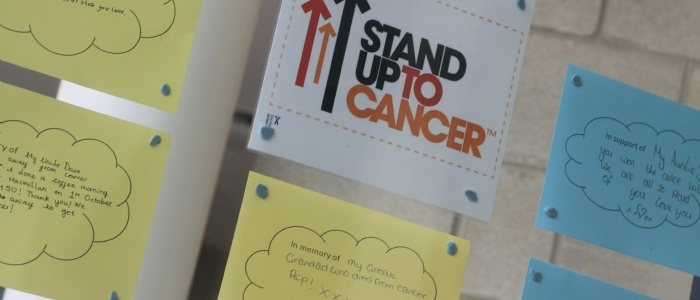 Kettering Science Academy supported the stand Up to Cancer campaign with a dedicated window in the library.
Kettering Science Academy supported the Stand Up to Cancer campaign with a dedicated window in the library.
The window was full of support and memory clouds written by staff and students. One cloud was in support of someone who is trying to overcome cancer whilst the other was in memory of someone who had passed away from the disease.
Mrs Heidi Economou, Head Librarian said 'We know first-hand that there are a lot of students who are affected by cancer. One in two people will suffer with cancer at some point in their life and this is something we can stand up to in unity.
'The first year we took part in the event the students took real comfort in it and said when they walked past the window it was nice just to know that there was someone else in their position, whether they had lost a parent or had a friend receiving treatment. It was really well received, we didn't expect it to have the reaction that it did so we stuck with it and this was the third year we have taken part.'
The library raised money from staff through the official Stand up to Cancer competition 'Pick A Door'.
Mrs Economou said 'The event is very much about the clouds for us, we don't raise much money as we do not expect this from the children but we try to show that there is support. We think this unity is very important for the students.'
The official event broadcast took place on Channel 4 on Friday 21st October and was supported by celebrities such as Davina McCall, Alan Carr, David Tennant and Peter Kay.