Admissions information
Kettering Science Academy offers a range of courses, tailored to meet the needs and requirements of individuals from which students can move on to courses of higher education or full time employment. Applications are open now. Please see links below.
Induction Days 2023
We would like to invite you to our Sixth Form induction period taking place on Monday 26th and Tuesday 27th June 2023. You will be required to attend both days as, during this time, you will be given the opportunity to experience A Level lessons and life at KSA Sixth Form as well as looking at transition work to ensure you are ready to access your A Level subjects. This is an opportunity to trial subjects in preparation for the September start. You can trial more subjects than you have selected on your application. You will be required to arrive at KSA between 8.25 and 8.40 and you will be in lessons until 3.00. You will need to arrive and leave via the main school entrance. You will be registered and directed to the Sixth Form Block. You will need to provide your own lunch and snack for break. During the induction period you will be required to attend in suitable business attire. If you currently do not have any business wear, you could wear your school shirt and trousers/skirt minus the school tie. You will need to bring something to write with during the day. You may bring a laptop if you wish but the school will not be liable for any loss or damage to it. As part of the induction period, you will be given your transition work. This will need to be completed and returned to your subject teachers in September. To ensure we know who to expect for this induction period, please complete the survey via the Link before Wednesday 21st June 2023. We look forward to welcoming you and hope you enjoy this exciting experience. In the meantime, if you have any queries, please contact our head of Sixth Form Miss Davies on Rachael.davies@ketteringscienceacademy.org
In order to begin studies here at Kettering Science Academy Sixth Form, students must achieve five GCSEs at grade 5 or above. If students are studying vocational subjects only, they must achieve five GCSEs at grade 4 or above. Some subjects have additional entry requirements, so please read the specific subject information in the prospectus carefully. Link Below.
All students will be expected to participate in academic enrichment, engage in leadership opportunities or participate in the mentoring programme throughout their Sixth Form experience.
If the number of applications exceeds the Sixth Form capacity the post 16 admissions policy will be implemented which is available on Kettering Science Academy website.
Thank you to those who have applied, We have enjoyed meeting you and hearing about your aspirations. Pleas Hebe aware any late applications will be offered an interview after the Easter break. Any queries, please feel free to email Rachael Davies
More information about our induction days will be sent out after the Easter Holiday.
Interviews
Internal interviews took place during the school day this year. External interviews took place after school and were virtual. We will catch up with late applications soon, Please keep and eye on your emails.
Thank you to those who have applied, We have enjoyed meeting you and hearing about your aspirations.
Induction days are a great way to meet the teachers, attend taster lessons and get a feel for the building. Our next taster days are on the 26th and 27th June. Please fill out the form below to attend. If for any reason, you cannot attend an induction day then please email Rachael.Davies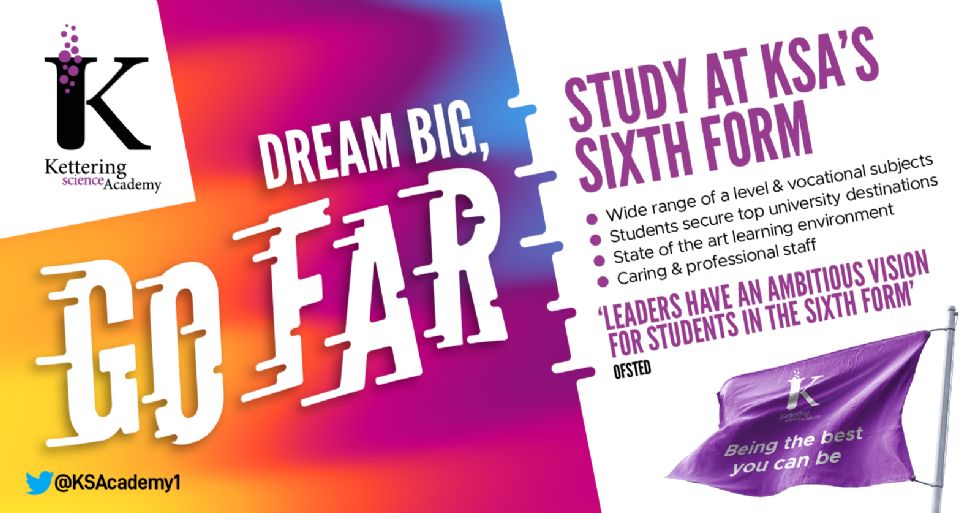 Our new build:
We are proud of our brand new purpose built Sixth Form block which takes studying to a new level.
An interactive tour of our stunning building is available here
Admissions Policy:
Kettering Science Academy's Admissions Policy is available to view here.