Admissions information
Kettering Science Academy offers a range of courses, tailored to meet the needs and requirements of individuals from which students can move on to courses of higher education or full time employment. Applications will open in mid-December. Please check back for further information.
In order to begin studies here at Kettering Science Academy, students must achieve five GCSEs at grade 5 or above. If students are studying vocational subjects only, they must achieve five GCSEs at grade 4 or above. Some subjects have additional entry requirements, so please read the specific subject information in the prospectus carefully.
All students will be expected to participate in academic enrichment, engage in leadership opportunities or participate in the mentoring programme throughout their Sixth Form experience.
If the number of applications exceeds the Sixth Form capacity the post 16 admissions policy will be implemented which is available on Kettering Science Academy website.
Applications:
Applying to Kettering Science Academy has never been easier. Click here and complete the form. If you are unable to access the form, please email reception and we can send you a copy that you can post back to us.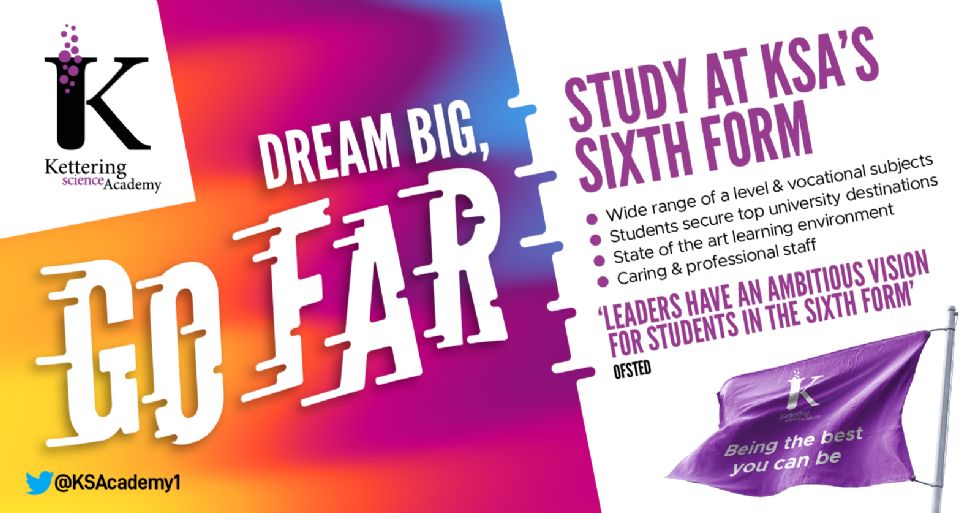 Our new build:
We are proud of our brand new purpose built Sixth Form block which takes studying to a new level.
An interactive tour of our stunning building is available here
Prospectus
NEW PROSPECTUS DUE NOVEMBER 2021
Courses:
Kettering Science Sixth Form is committed to providing the most appropriate courses for our students.
Courses on offer are subject to student numbers.
Most students study three A level or vocational subjects.
A levels are now linear meaning that the overall qualification at A2 is assessed entirely at the end of the second year.
Assessment varies across subjects – specific subject information can be found in the course details found later in this prospectus.
A range of vocational qualifications are on offer alongside the traditional A level courses, allowing a mix and match approach whereby students can study a combination of A level and vocational qualifications.
Subjects offered:
Group 1
Applied Science
Art
Biology
Business
Chemistry
Computing
Core Maths
Group 2
Drama
Ethics
Geography
German
Healthcare
History
Language
Group 3
Law
Literature
Maths
Media
Physics
Politics
Psychology
Sociology
Admissions Policy:
Kettering Science Academy's Admissions Policy is available to view here.