UCAS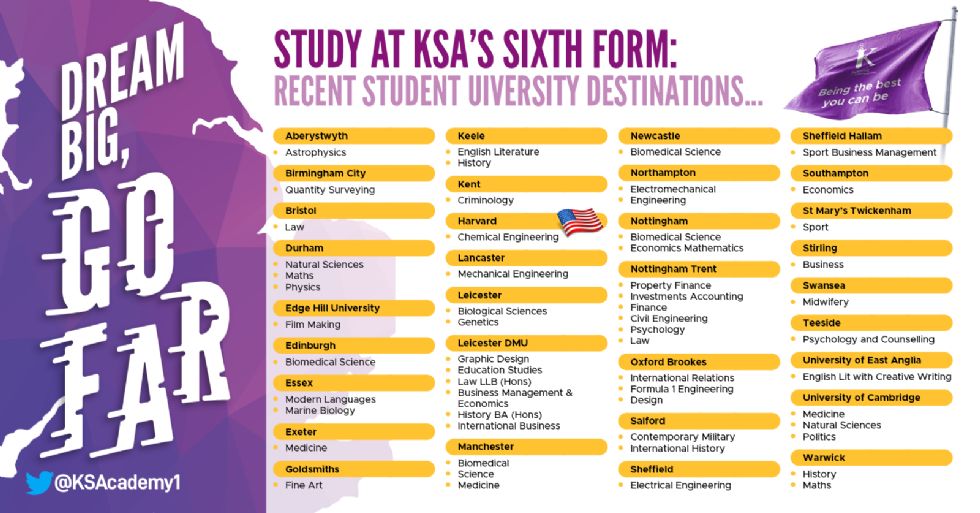 At KSA, we strive to ensure that all of our students are prepared for their next step in their educational journey. This begins on their arrival in Year 12 when students are logged onto Kudos, an online programme that explores careers, universities and apprenticeships available in the country. This allows students to see where their chosen subjects can take them. Through their global learning programme and with their tutors, students explore apprenticeships, universities and hear from speakers in business and other sectors so that they can begin to make informed decisions about their next step.
From the summer term of Year 12 all students are logged into UCAS. To visit the UCAS website please click here.
We encourage all students to complete their UCAS application so that they are keeping their options open. We know that for some of our students university is not their top choice and that they would rather go onto a degree apprenticeship or other routes. We have a dedicated, impartial careers advisor in school and all students are offered 1-2-1 meetings with the advisor during their time at the school. Alongside this, we host events that allow students to learn more about the different routes open to them.
During the summer term of Year 12, we support students with their UCAS application and writing of their personal statement so that they are ready to submit from September. Early entries (those wishing to study at Oxbridge, medicine, veterinary, dentistry) are completed first ready for the 15th October deadline. With most of the early entry courses, there are additional exams that need to be sat and these vary between universities so it is essential that students check each university website for information about these. We aim to have all applications sent off by Christmas of Year 13 to allow students to focus on their studies. There is a cost to submit an application to UCAS, which is currently £26.50 payable through Wisepay.
Alongside the applications, we run sessions on interview practice for all students. These cover different styles of interviews including 1-2-1, MMI and group interviews. All students will be offered this opportunity.
We recognise that for many families this is their first experience of UCAS and so we offer support with student finance and the application process to those that require it.
For the latest UCAS updates please click the link below
For careers advice click here.