Work Experience
Kettering Science Academy believes in offering work experience placements to students to help them overcome barriers to entering work, either through enhancing their CV, or more importantly by gaining confidence and really believing that they are adding a contribution to an organisation.
We have a dedicated Work Experience and Careers Lead that is here to give advice and guidance in getting the right placement for students. They will help identify which area the student would like to work in and give ideas and suggestions on how to find work experience.
Elisha Froggett, one of our students, said:
'I had a really amazing time on my work experience placement. I found it to be a really hands-on experience, I wasn't expecting to be allowed to do as much. I got a really good insight into the world of work and chemical engineering and it's helped me decide that a career in chemical engineering is what I'd like to pursue.'
For further information, please contact:
julie.thompson@ketteringscienceacademy.org
Beth Allan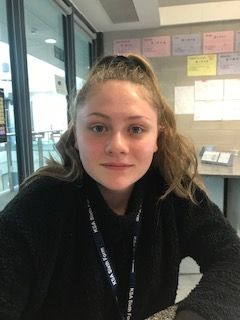 Subjects currently being studied:
Biology, Chemistry, PE

Future Aspiration (what career do you want to go into when you are older):
Veterinary medicine

Work Placement name and duration:
Abington veterinary surgery ( Saturday afternoons over a year period and in holidays), stables (two weeks)

What you did:
At the vets; hold dogs and cats, shadowing vets, scrubbed in for surgeries, observed x-rays, cleaned areas, took glucose concentrations, helped place and remove IVs. At the stables; general welfare of horses, observed osteopath, observed farrier, learnt configuration of horses, learnt lunging techniques.

Something you learnt from the experience:
Importance of team work, keeping calm in stressful situations, good communication skills, helped improve confidence, good time keeping, developed professional manner with customers, good organisational skills.

Why do you think work experience is important:
It helps to make decisions on what you want to do as a career and it can be a way to learn more about that career.

Advice you would give to somebody looking for work experience:
Do something you think you enjoy and try to do something that would link to a career you want to do in the future.

Careers you go into from the work experience you undertook:
Veterinary